4-7-8 Breathing exercise for life, and magnets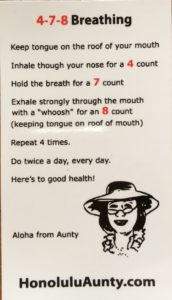 Aunty first heard about this 4-7-8 breathing exercise from Kay of Musings.  This supposedly helps you fall asleep, and so Aunty, on the few occasions when it was hard to fall asleep at night, would breathe in, hold, and exhale continuously, and find herself becoming light headed – but still wide awake.
Then, a link in one of Dr. Mercola's articles was to Dr. Andrew Weil's instructional video on only doing 4 breath cycles at a time, once or twice a day, and NOT as many as one is able to do.  This cycle of 4 originated in India and has health benefits of anxiety relief, lowering blood pressure (one of Aunty's new health concerns), and can give one a refreshing boost as well as ease of falling asleep.
Here's Dr. Andrew Weil explaining how to do this exercise:
Actually, Aunty did put her digital blood pressure cuff on while doing this breathing exercise and it DID result in a nicer lower blood pressure reading!
Aunty will be starting this practice daily. Sometimes while sitting on the toilet in the morning since nothing else is going on at that time.  *It seems like Kay of Musings and Aunty are on the same info plane because just yesterday, Kay posted about blowing while constipated.  What a coincidence, and SO worth a try!
Another practice (unrelated to toilet habits) that Aunty believes in is magnet therapy.  Kay has trigger finger and Aunty suggested she use magnets to help heal the area around her joints.  Sometimes Aunty grabs a business card magnet – those freebie things that come in the mail or are attached to phone books when they are first delivered – and lays it on the area of pain.  For Aunty, this is usually her neck and/or shoulders.  Perhaps it is her imagination, but it almost feels like the pain is lifted away.
In any case, these are 2 free methods of wellness that Aunty wanted to share with you today.  If anyone wants Aunty's 4-7-8 breathing magnet as well as 3 other of her magnets, please email Aunty (aunty@hawaii.rr.com) with your U.S mailing address and Aunty will gladly mail out a set of her 4 magnets.  You can use these magnets as reminders on your refrigerator or file cabinet, or for temporary magnet therapy.
Wishing you peace, happiness, and wellness!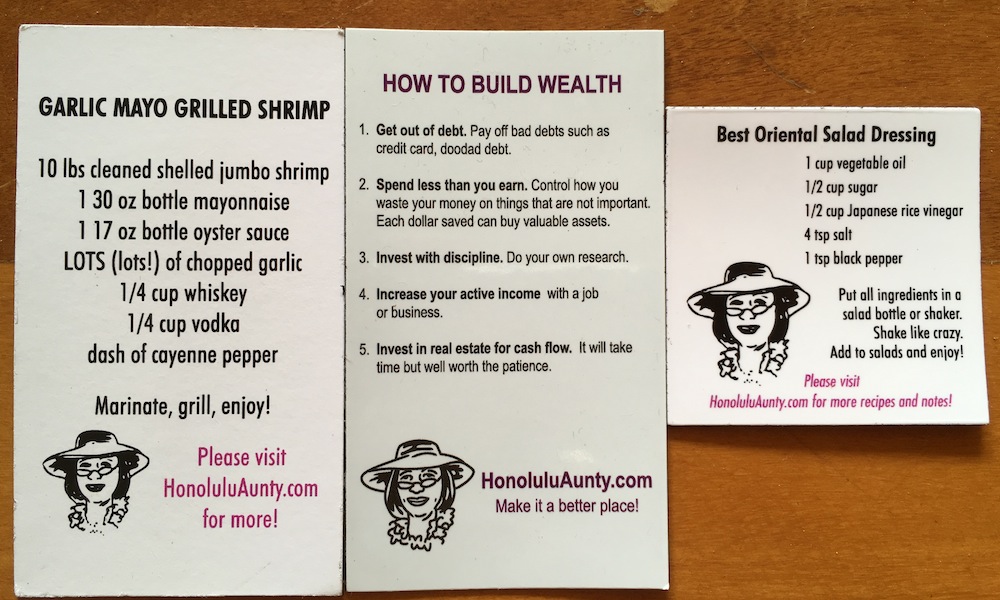 About The Author
Related posts