5 morning stretches – so easy, and they work!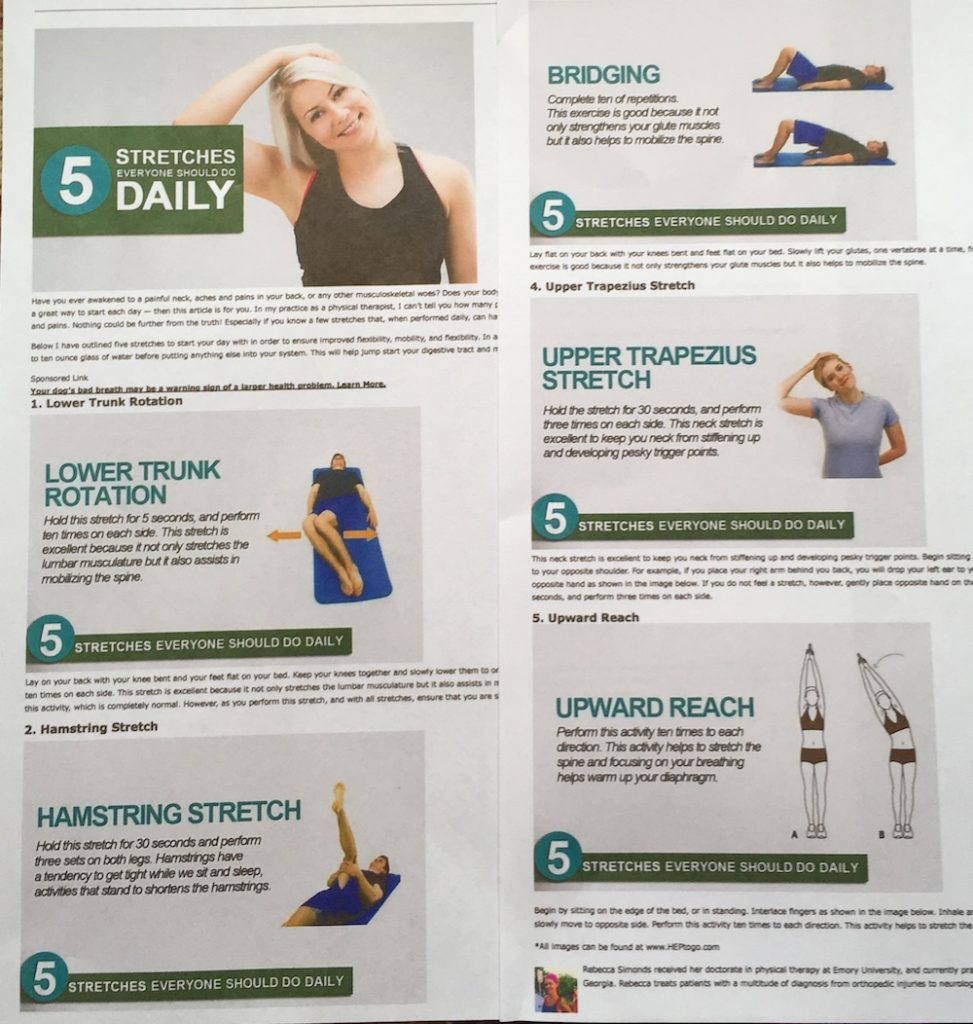 One of the better health newsletters that Aunty subscribes to is Live in the Now.  The articles that arrive in my inbox are daily, and quite interesting.  The sales copy of its Stop Aging Now product line which correspond to health issues are compelling.  The "deals" are enticing.  More times than not, Aunty takes the bait and orders from them.
The latest is a topical skin treatment with vitamin C that sounds very promising for Aunty's aging skin.  Another is a product called Synergy7 – a detox formula that helps the liver function at optimal levels, which Aunty figures she needs since she is still a poor eater – choosing food for its taste rather than benefits.  So, most likely, Aunty's liver is in need of a detox and boost.  Perhaps her "liver spots" that are in her genetic blueprint (great grandmother's face was like a map of liver spots) will be conquered.  [Note:  the Cambodian BeBe cream is still keeping Aunty's dark spots at bay, with occasional Nerium night cream treatments.  Mai's Beauty Salon will be bringing the cream in for sale now!]
The latest email had a link to "5 Stretches Everyone Should Do Every Morning."   3 of them can be done while lying on the bed, and very easy to do – lower trunk rotation, hamstring stretch, and bridging.  One of them is done while sitting, and also very easy to do – upper trapezius stretch that feels GREAT for the neck and shoulders.  The last one is done while sitting or standing – an upward reach up and to the side, holding for a few seconds while breathing in slowly, and exhaling slowly, then moving to the other side.
Aunty printed these out to follow until they can be done as an automatic thing to do in the morning upon waking up or at other times during the day while sitting at the computer.
Being a senior citizen has so many benefits, except for the loss of a youthful body and health.  As we age, we need more help and awareness of doing what is good for us, and not doing what is bad.
My wish is that we can all be well, wealthy, and happy.  Be well, dear friends and family.  Wealth and happiness to you, too.
About The Author
Related posts