A perfect steak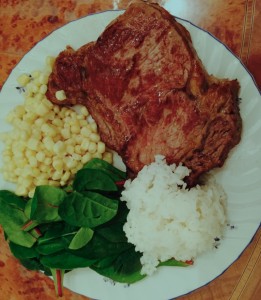 Once in a while, Aunty loves a great steak.  One that is a little bit crusty outside yet soft and slightly juicy inside.
Most of the time, we would cook them outside on a hibachi grill after salting and seasoning with Canadian Steak seasoning (from Costco).  It would almost always be great, but it was a bit of a hassle making the fire and getting the charcoals just right hot.  This also took quite a long time and if the sun went down before the meat was cooked, it became hard to see out in the yard, and then hard to determine if it was cooked enough, or not.
Sometimes we would pan fry them with the seasoned cast iron pan – smashed cloves of garlic in the heated oil, then cook one side on high heat for a few minutes, turn it onto the other side and wait for the meat to get cooked to medium done with some Hawaiian salt and the Canadian Steak seasoning sprinkled on as it sat in the pan.  Sometimes it was good, sometimes it wasn't so good.  It was always very very greasy and rather messy, though also very tasty and filling.
Then, one day a recipe for cooking a perfect steak without a grill came into Aunty's inbox.  This was from Craig Ballantyne, an ultra healthy workout guru that communicates with his EarlyToRise.com website and emails.
One must start off with quality beef – organic is better but Aunty bought hers at Costco, the rib steaks that are about 1″ thick.
Ingredients are:
butter
salt
a cast-iron skillet or regular pan that can be heated on high heat
glass cookware for the oven
Preheat your oven to 450º.  Get the skillet as hot as possible on your stovetop.  Apply butter to both sides of the steak (not too much, just a very thin layer like buttering toast).
When the skillet is very very hot (can't hold your hand over it for more than 5 seconds), place the steak in the pan.  Cook for 3-4 minutes per side.  Put steak in the glass cookware, add a little dab of butter on each steak and sprinkle some sea salt on surface.
Cook in the 450º oven for 7 to 10 minutes.  7 minutes will be a medium rare steak.  Aunty cooked for 8 minutes (Aunty likes the number 8) and it was done perfectly medium.  Not too greasy, lightly crusty from the butter fry and so soft and juicy inside.  A perfect steak, indeed!
It was interesting cooking on the skillet WITHOUT starting with oil in the pan.  The butter on the steak contained the fat to the meat, which was quite nice.  Clean up was easy, and the glass dish went straight onto the table from the oven.
Kudos to Craig Ballantyne for the recipe!   If any of Aunty's readers have tips for cooking a great steak, please share with us in the comments below, mahalo, and happy eating!!
Update:  The first time was a winner because Aunty followed the recipe, exactly.  The second time, Aunty forgot to sprinkle sea salt on the steak before putting them in the oven, so they were not as tasty and we had to add salt as we ate.  One thought is now to try this recipe with a Himalyan salt slab – having it preheat in the oven and putting the steak directly on the heated salt slab instead of the oven cookware and finishing the process in the oven.
Most recent update:  Pal Wandaful let Aunty borrow her salt slab – big heavy thick salt slab!  She said to just wipe it down when done – so easy peasy.  It took the place of the glass oven dish and salted the meat just right!  However, this time the steaks were less than 1″ thick and so they came out a bit too well done for Aunty.

About The Author
Related posts