Almost like winning free miles!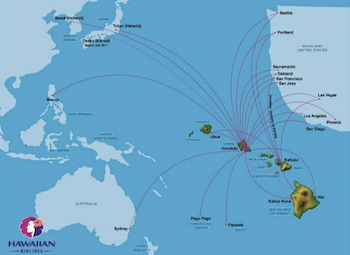 Who wants almost free miles?
On a recent trip to Los Angeles I had the pleasure of sitting next to a nice gentleman named Jeff who travels a lot on company business. This man was rich with miles. He carried a gold American Express card that pays 3 points per dollar spent, x for airline travel. It costs $125 per year, and he got 50,000 miles for opening the account (he waited for the deal.)
Aunty has the Costco American Express card from which we get an annual rebate check for about $100 which is used at Costco (not sure if I can get points rather than a rebate.)
Jeff is a Hawaiian Miles Pualani Platinum member – which means he flies over 40 flight legs or 40,000 miles per year. Aunty is just a Pualani Gold member with over 20,000 flight miles per year (4 trips to Vegas per year will do it). Aunty loves being Pualani (Heavenly Flower, hah!)
For Aunty, Hawaiian Miles are like gold. (see Aunty's Travel page.)
What Jeff taught me about his Gold American Express card, other programs, and Hawaiian Miles was better than platinum..
Miles and points from American Express are transferrable to Hawaiian Miles!  Okay, duh, maybe you knew that but Aunty didn't. What really blew me away was that points on OTHER airlines such as United, American, Delta, etc. are also transferrable! Not sure if a fee is charged for the transfer (note to Aunty: find out about fees, to own self and/or to others.)
Points from hotel chains such as Marriott are also transferrable! Mahalo to Jeff for sharing!
Aunty hasn't transferred any miles from other airlines yet – but it's on the gotta do list. Having 4,000 miles with American Airlines and 5,000 miles on United's mileage isn't doing any good since Aunty usually travels on Hawaiian Airlines.
If you have had any comments or experiences about transferring your miles, please let Aunty and Aunty's friends know by commenting below.
Mahalo!
About The Author
Related posts