Aunty and Mr. Price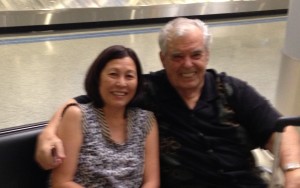 Aunty was in Las Vegas, the ninth Hawaiian island, and very happy to be in a picture with KSSK radio celebrity Larry Price at the McCarran Airport.  Uncle took the picture.
We were there for a Nerium Bash – what a company!  New and improved tools, great training and an awesome new program for non-profits to earn commissions without any start up costs!  Please let Aunty know if you are interested.
Aunty put $6 in a slot machine that took the money and didn't give back anything, so it was break even on the gambling front.
We are now at home, and it feels so good to sleep on our own bed and be surrounded with our own things.  Going on trips every once in a while gives me a new prospective – also makes me realize what a mess our house is in, yikes!
Aunty is getting back into the swing of building into our retirement goals so will be posting more in the future about cash flow, financial lessons, reviews, etc.   Hope y'all (met a lot of people with that accent at the Bash) are having a great day!!
About The Author
Related posts