Aunty is now old enough for Zippy's!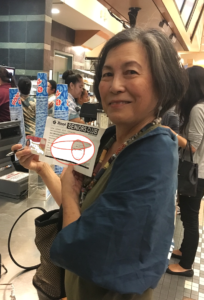 Aunty has been waiting forever to be eligible for Zippy's Senior Discount Card.  Last week, on her 65th birthday, Aunty got her card!!!  Woohoo!
With photo ID and an annual fee of $20, Aunty gets 10% off all food and drinks – dine in, take out, bakery, and free parking!  (Actually, parking is free but it was a good way to end the sentence.)
Happy Birthday to Aunty
To tell the truth, Aunty really doesn't like birthdays – going to them or having them.  Bah, humbug!
And spending a lot of money on a little bit of food is really not Aunty's style, so when the kids asked "where do you want to go?", the answer was easy.  Her favorite, Zippy's Sushi in Kahala (there's another one in Pearl City).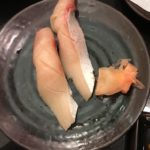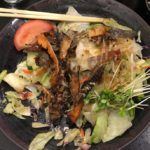 We sat at the counter (which got much smaller after the renovation) and Aunty ordered her favorite sushi – hamachi nigiri ($11.55).  The very nice waiter said he liked the salmon skin, so Aunty ordered the salmon skin salad ($7.05), which came on a bed of iceberg lettuce.  Both were very very good, and perfect for a semi-light dinner, with a little room for dessert. (Jalna, you would LOVE the salmon skin.  It reminded me of bacon, yum yum yum.)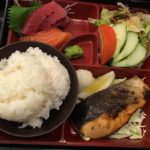 Daughter on the left got the 2 choice teishoku ($19.50) with sashimi and salmon.
Kids on the right ordered the monthly special dragon maki sushi ($10.95) and the Chef's special ($21.60) which came with assorted nigiri sushi, udon, and tempura (sorry, no pictures).
As we waited for the food to arrive, the sushi chef gave each of us a wonderful dish of deep fried battered salmon cubes in a cold vinegar ponzu sauce (SOOOO yummm!) and double bonus of some fish sticks that were cooked to crispy crunchy perfection.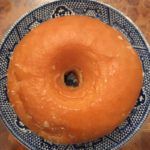 Rosie's John picked up the tab, saving money with Aunty's NEW senior discount card, and Rosie treated Aunty to her favorite dessert – glazed donuts.  With Aunty's discount card, she saved 14¢ per donut – which doesn't sound like much, but it was still – Wooohooo!
The best is yet to be
Becoming 65 is quite wonderful.  Zippy's senior discount, getting Medicare qualified (easy to do on the ssa.gov website), and also being eligible for a senior bus pass.
After a year, Aunty will be 66, and eligible for FRA – full retirement age social security benefits, regardless if Aunty has wages or income from other sources, WOOWOOHOOO!
It is great to grow older.  It really is.
About The Author
Related posts