Aunty's compact SUV reviews, part 1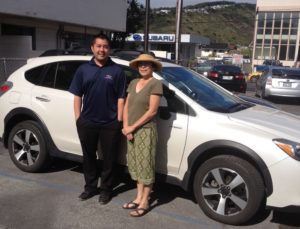 Aunty has bought cars.  A lot of them, because for some reason or another, Aunty's current vehicle becomes outdated or lacking, and then the search is on for another vehicle.
2 years ago, Aunty bought a Subaru XV Crosstrek from Jace Sadowski at Kaimuki Subaru.  It was just the right size, super cute and cool looking.  Also, it was a Subaru – known for its reliability and high resale value.  It was a smart decision, in Aunty's opinion, the price was right, and Aunty liked how it looked – sporty, hip, young-ish.  Aunty has an antennae for good people, and Jace was a nice humble young man that really believed in the Subaru brand and went out of his way to make the deal happen.  Aunty got a Hybrid that isn't really a hybrid (no longer available), with keyless entry and start (wonderful wonderful), roof racks thrown in, and leather upholstery.  It even answers incoming calls from the cell phone and has a nifty backup camera.
The service department across the street from the sales lot is terrific.  They do a great job, have easy scheduling, and are fast.
This 2014 Subaru XV Crosstrek has been a good car, with one missing element.  A power lift gate.  Maybe not a biggie to you, but it has been an issue with Aunty, who sometimes struggles to open the back when her hands are full, and then having to reach up and push down to close, resulting in a dirty hand if the car is dirty (usually).
So, another quest began.  Finding the perfect compact SUV with a power lift gate for a very picky Aunty.  It also has to be beautiful, classy or cute, in Aunty's eyes.  Aunty used to be in love with the gorgeous Mercedes Benz GLK, but that flame was extinguished after she was slighted by her go-to salesperson who used to be nice to her, until he wasn't.  That Mercedes GLK had almost everything except for Uncle's approval.  He didn't like Mercedes vehicles because of its mechanical faults and quirks.  He was a Toyota man, through and through.  The salesman's slight and Uncle's bias took the gorgeous Mercedes line out of the running, this time around.
Toyota RAV 4
This would make the most sense, except Aunty gets car sick riding in Toyotas.  Isn't that weird?  Driving a Toyota doesn't affect Aunty that way, but Aunty wanted something a little smaller and preferred the looks of the older RAV4, so didn't test drive the newer ones.  Here is a video of the top 10 good reasons to get a 2016 RAV4, which DOES have a power lift gate!  Hmmm.  Maybe Aunty needs some rethinking.
Infiniti QX50 and QX30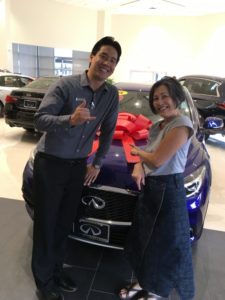 These are, in Aunty's eyes, the most beautiful of them all.  Aunty met nice Daniel Morisato at the snazzy Infiniti showroom near the airport, but did not test drive either of these gorgeous vehicles.  Neither had a power lift gate, but they had that wonderful new luxury car smell and impeccable details that would have made Aunty feel like a driving queen.  Actually, the QX50 was a little too big, and the QX30 might have fit the bill, except for the lack of a power lift gate.
The QX30 has some really good reviews by car buffs and might be worth another look in the future.  Pricey, but not as much as the Audi or Mercedes, and ranked higher for its features and performance.  Interestingly enough, Daniel used to work at a Ford dealership and suggested looking at the Ford Escape because of its advanced technology and improvements.   Hmmmmm.  That vehicle wasn't even on Aunty's list.
Audi Q3
One of Aunty's pals raved about his Audi Q5, which was a very nice SUV that he loved more than any other vehicle he owned because of its comfort and features.  So, Aunty went over to the old Audi lot near the airport (since moved to Ward and Kapiolani) and test drove both the Q5 and the Q3, with 2 adult daughters in tow.  Because the Q3 was a smaller SUV (perfect size for Aunty), it seemed to have more power and was somehow more comfortable for the back seat daughters, or so they said.  It was nice looking, not as luxurious as I expected, but still, very nice, very quiet, and smooth driving.  For a bunch of dollars more, a power lift gate option was available!  It would have been Aunty's next car except for a very irritating back up camera/audio/navigation display that looked like an ipad permanently fixed and protruding above the dash.  Very irritating.  Boohoo, boohoo.  This was a pretty one that had to be let go.
To be continued in a few days ………
About The Author
Related posts