Beauty tips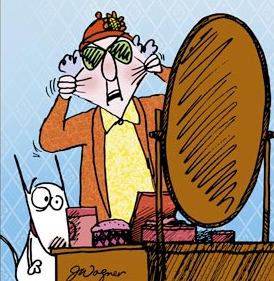 This is a page dedicated to all of us non-beauty queens who just want to look a bit better than usual with the least amount of effort.
First of all, smile.  Nothing makes your face look better than a genuine smile.
I also firmly believe in brushing my teeth with toothpaste after I drink my morning coffee.  Keeps my teeth white rather than brown and yellow.  I know this is hard if you work in an office but do what you can to get the coffee off your teeth.
To prevent those sun spots and skin discolorations in the first place, use a good sunscreen (I use Neutrogena spf 70 that I get at the Nordstrom Rack or Costco) and wear a hat or visor whenever you go out in the sun.  For some reason, young folk don't have this problem, but one day, all of a sudden, they will have the sun spots too – take it from Aunty.  At that time they will wish they wore hats and sunscreen.
Aunty latest and greatest find is NeriumAD.  This is a night cream that is amazing in its science, results, and business opportunity.  After the first 2 weeks, Uncle said my face was glowing – and so was his!  I have Elaine of the Green Valley Ranch Spa keeping tabs on my rather dark sun spots since I see her about once every month or two.  At my last treatment, she said the spots are beginning to break up – which is great!  Aunty has tried almost everything and was about to try Obagi – the very complex (5 step process 2x a day for 2 months), very invasive (your skin actually peels off and leaves skin looking raw), very scary (some people have permanent sunburn damage if they do not take care during the treatment) through a dermatologist since this is a prescription based product and treatment.  Aunty is very glad to be introduced to NeriumAD – the product and the company, and Aunty is now a distributor of this excellent age defying night cream at aunty.nerium.com, and did a review of the business on a Review page.
Although facials could be classified as doodads, they become a worthwhile expense because of the benefits and how good it makes Aunty feel (and look)!  I make it a point to get a facial whenever I travel to Vegas (Elaine at the Green Valley Ranch Spa) because of how Aunty feels like her skin shrivels up and dries over there.
To have beautiful clean hair, use Neuma shampoos and conditioners.  I buy mine at BOSS Beauty Outlet Supply on Nimitz next to the AAA Hawaii store.  I love the Neuma Volume products – it has the added bonus of smelling wonderful!  [Update – now Aunty uses Aveda's Volumizing Shampoo with its Conditioner thanks to pal Patricia.  It almost seems to make my hair feel tangled when shampooing, and really does give volume and boost to Aunty's locks.]
Master Hong says to eat 7 dates a day to maintain beauty.  I got the big tub from Costco, and ate 4 a day until I ran out.  Not sure if it made a difference, but it was quite nice and delicious to eat with my morning cereal.
Eat a good diet, exercise, and get your sleep.  Simple and real.  If you don't eat that well, make sure you take supplements.  I take one or two capsules of Super Food 100 daily from the American Botanical Company. I also take a capsule of Intestinal Correctional #1 (from American Botanical) every evening with dinner.  A potty a day is good for you.
For the last 10 months, Aunty has taken Protandim by LifeVantage.  Aunty's review of it in on a Review Page of the products and the company.  Protandim is a wonderful daily supplement and has helped my energy levels, joint strength, and brain fog.  I feel less stressed in general, and I will take this little yellow tablet forever.
Facial yoga for double chins:  Put your fist under your chin with your mouth closed.  Giving slight resistance with your fist, open and close your mouth slowly.  I suppose you could do this while standing in line at the bank, but you might look a bit strange.  Aunty just got the PY Neckline Slimmer for herself.  Possibly working, easy to use.  Buy it from Amazon.com or eBay.com, sometimes you get free shipping.  Also, when no one is looking, do "EEEEE"s to help jowls look less saggy.  If you do those in public, you will look scary.
While standing in line, do your kegels.  This is when you squeeze or contract your pelvic muscle.  Makes your butt firmer, and has other benefits.  Five seconds at a time should do it.
Master Hong says that the perineum muscle (area between anus and the other stuff) is the base of your body pyramid.  He teaches several exercises on a slant board for health and beauty benefits.  One of the easiest to describe and do is to stand straight with arms to your side, and place both feet together on a slant board (with your toes higher than your heels).  Contract your perineum as you inhale through your nose.  As you contract and inhale, let the energy from the perineum rise up your back through your spinal cord, up to the top of your head, and then release your breath through your mouth, relax your contraction, and let the energy go down through the front side of your body.  The higher the slant of the board, the more your body will respond and need correction (i.e. crooked stance or head tilted to one side).  Although this exercise works best on the slant board, it also works just standing in the bank line.
To combat dry hands and feet, vaseline can be your best friend.  Just before bedtime, put a good layer of vaseline on your hands and then put on a pair of old cotton gloves.  You can use latex gloves but you will get sweaty hands and the latex will start to disintegrate.  For your dry feet, slather on some vaseline, and put your feet in socks, then go to sleep.  When you wake up in the morning, your hands and feet will be soft and moisturized.
Attended a facial massage class at the Kapiolani Women's Medical Center recently.  It is well worth the few dollars to attend, but Aunty found it to be a lot of work gently pushing on pressure points.  Much more luxurious and wonderful is to have a fantastic whole body shiatsu by Dick Murakami at Hikari Shiatsu.
For us more mature gracious ladies (i.e. older), Aunty wrote a new page Just for Aunties.  We need a bit more help than young people in order to look decent.
Please leave a comment below if you have any tips for beauty to share.  Mahalo in advance!
About The Author
Related posts