Broke da Arm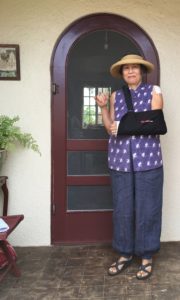 Aunty is now a patient, feeling impatient.  Last Wednesday, she tripped on someone's driveway while walking a dog and broke 2 bones just above her left wrist.
Surgery was done on Friday.  Recovery seems slow – but there is no way to rush it.
Time has been slowed down, too.  Life goes on, and the weeds are rejoicing because Aunty's daily yard duties have been curtailed – for now.
About The Author
Related posts