Buying a piece of Ala Moana Hotel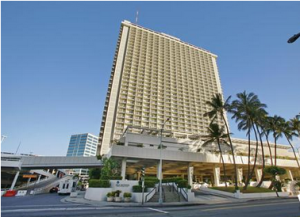 Aunty used to go to a lot of marketing events at the Ala Moana Hotel, parking at Ala Moana Center by Macy's, which was a no-no but everyone did it without any hassle.  From there, a short walk up a ramp took us into the ballroom section of the hotel.
Rumours Night Club just off the lobby is a hoot!  Aunty is not into the nightclub scene but decided to join some friends years ago during the happy hour.  We had pupus and cheap drinks and the place was packed with gyrating, happy dancing hipsters.  Old hipsters.  Even some really old hipsters dancing and enjoying themselves in the dance cages until the clock struck 9:30, when it changes over to a swinging place for young people.
Besides Rumours, the pool bar, some good restaurants and hotel amenities, the Ala Moana Hotel is such a convenient place, right smack next to the Ala Moana Shopping Center and the Ala Moana Pacific Center where Salon 808 and Aunty's former hairdresser Quyan are housed.  The hotel always seems busy and vibrant.  The lobby is open, bright and clean.  Various airline crews are there for their layovers because prices are reasonable and access is easy.  This hotel is out of the hustle and bustle of Waikiki and neighbor island locals like it.  The entire hotel is smoke free and the property is fee simple (as opposed to leasehold).
About 10 years ago, this hotel was condo converted and employees were given the first option to buy.  Units began selling for $85,000 and up.  Current prices range from $145,000 up to $498,000, depending on size (246 sq ft – 559 sq ft) and desirability of individual units.  AOAO (building association) fees run from $794 – $1130/month and property taxes range from $174 – $259/month.
One could choose to live here part (or all) of the time and rent out the rooms the rest of the time.  This could be done by managing your own rental – finding tenants, collecting rents and fees, cleaning on a regular basis, maintaining the unit up to hotel standards and conformity.  Or, you could find a property management company and arrange for them to do all the work for fees ranging from 15-40%.   Joining the hotel management pool would be the easiest option – though at a cost of 50% of rental income and 10% management fee.  The term of rental agreement is for 5 years with initiation fees of $400.  Even with these high hotel management costs, Aunty heard that the cash flow is good.
Testing waters
Aunty contacted Noreen Ho, her mortgage broker who also is a real estate agent about buying a unit.  Noreen is hard working, very knowledgeable, and easy to work with.  Within minutes, Aunty had a list of 48 units currently for sale.  That is a lot of units for sale, but it is a big hotel with 1100 rooms/suites.  She also gathered rent rolls for the units that were potential purchases.  They all cash flowed!
Why would people sell their units if it is so convenient, well maintained, well run, and cash flows?  Seller disclosures do not reveal any negatives, so it is a curiosity as to their reasons, and Aunty wades in cautiously.
The visit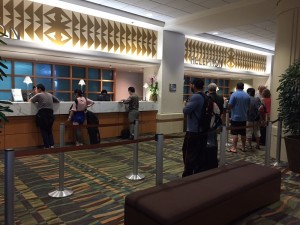 Noreen met Aunty at the hotel's front desk and received a pre-arranged one hour pass to see 2 units of interest.  The lobby was busy with a line of people waiting to be registered.  We were informed that the hotel was sold out for the day, and that it has been a very good and busy year for bookings.
A very nice bellhop stopped to chat with us and we discovered that overnight parking at the adjoining Ala Moana Center was not allowed because the parking was closed after hours and re-opened at 5:00 in the morning.  Hotel guests needing parking are charged $20 per day for basement parking or $25 per day for valet parking.  Metered parking around the streets were also available, though on a first come first served basis and subject to feeding the meters during the day.  Residents of the hotel can purchase parking passes at a discount.
Just around the corner from the front desk is the real estate office of Jack Tyrell & Company.  We picked up a handy info sheet that he provides with all active listings in the hotel as well as recently sold units.  As of 10/11/2015, 44 units were available for sale and 35 units had sold in the last 6 months.  Jack Tyrell is the listing agent for approximately 25% of the current units for sale.  On a subsequent visit, Aunty dropped in and had the great pleasure of meeting Julie – super nice lady and so helpful.
Days on market of current listings range from a few days to 300 days.  Units are not flying out the door, but they are selling at an average rate of 6 per month with new listings at the same rate.
Touch and feel to decide
It was good to see the hotel and walk the halls.  It is not luxurious but it is very pretty.  The hotel card key is required in the elevators to access the different floors for security.  The elevators are clean and bright.  The hallways are clean.  An ice machine and drink vending machine are located close to the elevators.
Waikiki Tower, Unit #1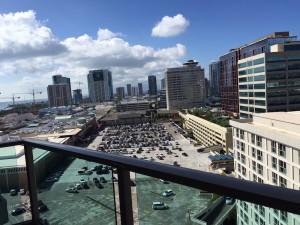 The first unit we looked at was in the Waikiki Tower on the 17th floor close to the elevator, with a lanai overlooking the Ala Moana Center parking lot.  This was rather nice – being high up meant a wider view with a sense of privacy.  The view from the tiny lanai was of downtown Honolulu and Ewa side, with a number of construction cranes in Kakaako – evidence of the condo building boom that is overtaking the area.
The room was a mess because it was recently vacated and not yet cleaned for the next guest checking in.  Still, it felt pleasant.  The entire hotel was going through renovations, floor by floor, and this room had brand new carpets and clean neutral walls.  The furnishings and built ins were of good hotel caliber, the bathroom was decent and average.  It was 297 sq ft and priced at $177,000.  We were in contract (in escrow to buy) at the asking price.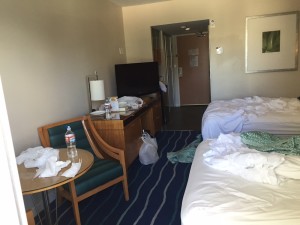 Rent rolls were pretty good, to Aunty.  (note:  Aunty has been advised in the past by several real estate "gurus" in Hawaii that there are far better deals than the ones we were considering and then bought.  However, time and cash flow has been kind to us, even though we did not follow the "gurus" advice.)  In 2014, revenues for the room totaled $46,690.25 with deductions and expenses of $37,854, resulting in net annual income of $8,836.25.  The majority of the expenses was the 60% (yikes!)  to the hotel pool management.  It was vacant for 75 days last year.
To most seasoned investors, these are not great numbers.  In fact, they might even say that they are poor numbers resulting with a ROI (return on investment) of 5.13%.  (Revenue of $8836.25 divided by cash investment of $172,000 = ROI of 5.13%)
Real estate pros and gurus usually will not settle for less than 8% ROI.
Waikiki Tower, Unit #2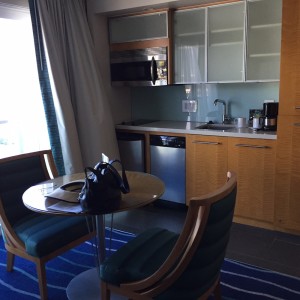 The second unit was on the 21st floor, a 1 bedroom suite on the Atkinson side of the building.  It was very very nice and looked brand new.  The "parlor" had an almost full wall kitchen with even a small undercounter dishwasher.  A new comfy sofa could be pulled out to be a bed.  The parlor could be closed off for privacy from the rest of the unit which consisted of a good sized bathroom and a bedroom with a building corner lanai.
The view was less than nice – unless seeing the messiness of Kapiolani Boulevard, ugly buildings, and street traffic is your cup of tea.  The view of the Convention Center did look nice, along with a peek between the Yacht Harbor Towers and the YMCA, revealing the charming boat harbor fronting the Hawaii Prince Hotel.  This charming peek will soon disappear once the new owner of the YMCA property commences construction and builds their planned high rise.  The lanai was also very breezy – too breezy for Aunty's dry eyeballs and fly away hair.
This unit was priced at $345,000 and felt spacious with its 503 square feet of living area.  This unit is not in high demand in the rental pool because it costs more for guests to book ($259 per night for this suite vs $149 per night for the studio rooms).  In 2014, it was vacant 110 days.  Still, it did manage to cash flow (actually almost anything will cash flow if the unit is bought with cash) at $8346.60, slightly less than the same net annual income as Unit #1.  The ROI was rather sad in comparison, a piddly 2.4% (revenue of $8246.60 divided by cash investment of $345,000 = ROI of 2.4%).
Kona Tower side
Noreen and I were curious about the Kona Tower units.  These were the smallest units – studios with 246 square feet of living space, no lanais.  Units in this Tower have the lowest sales price and lack of scenic view.  They also have the lowest booking prices for guests.  This should make it cash flow better than units in the Waikiki Tower since they would be the first to be booked by travelers looking for hotel deals.
We accessed from the left side of the lobby area, through a corrider and past the Business Center by following some tourists into the elevator and exiting on the 7th floor. There are only 13 stories on the Kona side.  Rooms are numbered from 33 to 63, with #48 corner unit rooms facing downtown/Ewa and #49 unit rooms facing Ala Moana Center and the ocean.  These corner units may seem appealing (we did not go in to see them) but they are at the farthest point from the hotel elevators, 14 rooms down from the ice machine/elevator junction.  The hallways in the Kona Towers seem narrow and the ambience of the lighting and walls make it feel motel-like.
Based on rent rolls that Noreen secured for one of the units on the 13th floor, the 2014 ROI for this $170,000 246 sq ft studio was 4.35% (revenue of $7404.95 ÷ $170,000 = ROI of 4.35%).  It was vacant for 65 days in 2014.  The lowest list price of $145,000 was for a studio unit in the Kona Tower.
Analysis
Experts and investors will probably judge these as not great investments.  Even the employees of the Ala Moana Hotel that bought in years ago when it was first offered for sale in the condo conversion have not been thrilled with their purchase as an investment.
There are factors that are out of our control which could negatively affect the cash flow – low occupancy, repairs that cause vacancies due to being out of order, renovations, rising management costs, downturn in the economy, disasters.
If a unit can be purchased for a lower price and occupancy rises, the ROI increases.  If the hotel becomes more desirable to investors, the sales price could appreciate and a tidy profit could be made in the future.
Financing as an option
If an investor does not have the cash for the entire purchase, Finance Factors will provide up to 60% of value as an investor loan.  The current rate is 4-4.5%.  Securing financing for these will add a monthly expense in the mix, dropping the amount of cash flow.
Running the numbers for Waikiki Tower unit #1:  the purchase price of $172,000 and annual net cash flow of $8836.20:
a 4.5% loan on $103,200 (60% of purchase price) will result in mortgage of $523.  $523 x 12 months = $6276
Cash flow is reduced by the monthly payments to the bank, resulting in annual net cash flow of $2560.25
ROI is now 3.72% because the annual cash flow of $2560.25 is divided by the cash investment portion of $68,800 (the rest is from the bank loan).  It seems like the numbers got worse BUT the amount of cash that is invested is much less, and it is still providing cash flow.
Running numbers for Waikiki Tower unit #2: the purchase price of $345,000 and annual net cash flow of $8246.60:
a 4.5% loan on $207,000 (60% of purchase price) will result in monthly mortgage of $1048.84.  $1048.84 x 12 months = $12,586.06
Cash flow is reduced by the mortgage payment, resulting in a negative annual net cash flow of -$4339.46.
ROI is now negative – not a good idea, BUT it may become one if it can be sold for a higher price in the near future, occupancy increases, you want a second home to live in, or you want a piece of the sky in paradise.
Jumping in
Aunty has a talent for losing money.  Stocks are bought and watched as they slide down in price with little bumps up and bigger dips lower.  Poker hands are won and then lost in going "all-in", but it is amongst friends and only $5 for the buy-in.  Get rich quick seminars cost a lot and leave Aunty with an empty purse, apprehension and not quickly rich.  Fads and network marketing opportunities create a whirlwind of frenzy and high hopes, leaving Aunty with a stash of products, a lot of potluck parties and then later, tired and unmotivated.
Regardless of Aunty's other losing ventures, real estate that can cash flow is like a hen that always has value because of the constant flow of hen eggs to feed the family.  Some hens drop a lot of eggs, some drop a few eggs.  Some turn out to be turkeys that need to be prettied up and sold.
Aunty thinks that the Ala Moana Hotel has been a pretty sleeping turkey that is turning into a egg laying chicken so she is jumping in to complete the deal of unit #1.
Why?
It is one of only a few condo/hotels that operate like hotels in Hawaii and it happens to be in a super location.
It has just gone through renovations so it looks and smells great.
It is busy, beautiful, well run and well maintained.
It is affordable, especially compared to the new condos that are coming up that cost several times more, or houses in Hawaii.  Prices have been increasing, but at a snail's pace.
It is fee simple.  Leasehold properties (only Hawaii seems to have these) have lease expirations and potential increases in fees and are not as desirable as fee simple properties especially when you are ready to sell.
It cash flows.  Even at 2%, it beats Aunty's stock market gambles or money in a savings account.  It will cash flow even better if vacancy rates keep improving.
It has all the advantages of real estate rentals (depreciation, expenses to offset income, income producing asset) as well as the potential for value appreciation.
Owners have the option to live in it part or all of the year and have rent revenue for the times that you are not there.
If it doesn't work out, it can be sold.
Why are they being sold?
Perhaps the sellers want better results or have found something better to buy or invest in.  Perhaps they went to Rumours Club on a bad day and at the wrong time.
Whatever the reasons, Aunty is glad to have the opportunity to try her hand at the Ala Moana Hotel by owning a piece of its sky.
Steps to take
1.  Ask your realtor to pull up a list of all units for sale at the hotel.  Or drop by the brochure rack fronting Jack Tyrell's office and get a handy printed list of all units available for sale in order of prices, lowest to highest.
2.  Ask your realtor to get rent rolls for the units that you are interested in so that you can run the ROI numbers.  Have them arrange a showing with the hotel and view prospective units.
3.  Submit your bids with an earnest money deposit check and cross your fingers.  Most of the time you will be countered with a higher price by the seller and it is up to you to accept, counter back, or decline.
4.  If your bid is accepted, do a happy dance, start the escrow process with the designated title company, then go on the eHawaii.gov website to register a business in Hawaii (or visit the DCCA office).  It can be a sole proprietorship, LLC, partnership, etc.  (note to Aunty:  do a post about starting a business in Hawaii.)  When registering for a business license for rental income from a hotel, you will need to apply for your GET  and TA (temporary acommodations) license.  The NAICS # is 721199.
5.  Meet with the ALM hotel rental pool people that are located just behind the front desk area to learn about their pool rental program.  Most units are already in the hotel pool rental program.  Aunty met with Willie (Wilhelmina) and signed up to be part of the hotel pool because the program is so convenient for people like Aunty.
6.  Pay (with a cashiers check) the balance due and sign final escrow papers at the designated title company office.  The deed will then be recorded with you as the new owner.
7.  Congratulations, let the cash flow begin!  As an owner you can reserve your room for friends or family at special discount rates ($105 for the studio), as well as blocking off your room for yourself or your guests for free, though subject to a $40 checkout fee.
Time passed and lessons learned
Aunty will be updating about the wonderful world of hotel ownership in a future post.  The learning curve has been rather steep.  The searching and buying part have been fun and exciting.
Cash flow appears, as well as expenses.
Please stay tuned as Aunty, the hotel mogul wannabee's saga unfolds.
Meanwhile, here is a list of Aunty's "team" that have proved themselves to be awesome:
Realtor and/or financing agent:  Noreen Ho  of Savvy Realty (808) 398-8528  nho398@gmail.com
Attorney for LLC formation:  Aaron Mun of Kobayashi Sugita and Goda at (808) 535-5738 or arm@ksglaw.com
Jan 2017 update:  Aunty tried to win an auction last month, but the bank representative shot her down.
Also, cash flow from the "cheaper" units in the Kona tower is dropping.  Perhaps the new owners of the hotel operations (Mantra Group) are offering cheaper booking rates to contract guests.  It is affecting the monthly cash flow for these units, in a junk way. 
Towards the end of 2016, fewer and fewer units in the hotel were available to buy because the offerings were being snapped up like hotcakes.  However, this trend of lower rental income might have current owners dumping their units on the market.  The Ala Moana Hotel Board meeting is scheduled in February.  It will be interesting to see and hear from the new owners, and Aunty will definitely be there.
September 2017 update:  Mahalo for the comments that previous owners have made.  Sadly, they have had very poor experiences and results and have had negative cash flow and/or lost profits.  There ARE better deals out there – and perhaps Aunty's bias toward the hotel is too positive, but for now, Aunty still likes investing there. 
A caution to prospective new owners, though.  When you let friends and family stay for "free" as owner guests – they are required to pay $40 upon checkout for a cleaning fee, or more if they utilize the daily parking ($20 or $25 if valet) and each extra cleaning day is $18.  That is a really great deal for them, but you, the owner, will have your net rental check from the hotel pool cut by about $100/day.  Be aware of this and limit those owner guest passes unless they really are great friends and family.
About The Author
Related posts