Compact SUV reviews- part 3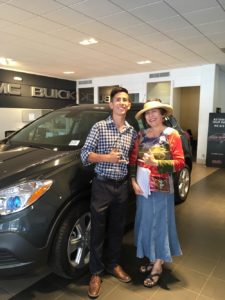 2017 Buick Encore
Lithia (who dat? don't know) owns the Honolulu Buick, GMC, and Cadillac dealership on Nimitz Highway near the airport.  Another cute young salesman greeted Aunty with a shy smile and respectful handshake.  Gordon Rivera was his name, and instantly Aunty liked him because he was not going to b.s. Aunty into buying a vehicle from him, but he was there to show Aunty what she wanted to see.
We took the rather small Buick Sport Touring Encore out for a test drive.  This car was also out of the running as Aunty's choice because it did not have a power lift gate.  Even so, it was very cute looking, with a very nice comfortable interior and a quiet ride.  It was the smallest of all the SUVs that Aunty looked at, and reasonably priced.  However, it just wasn't for Aunty, and when we returned to the showroom, Aunty was asked to sit and talk with one of the managers.
Hmmm.  Okay, but Aunty really wasn't going to buy a Buick that day.  Aunty didn't want Gordon to get into trouble, so she sat and let the manager do his spiel.  The manager was a bit pushy.  Aunty doesn't like being pushed so was very glad when that ordeal was over.  That wasn't the way to sell cars, in Aunty's opinion.  Gordon's considerate manner and respect, even though he was new to selling, was a far better way to reach and persuade Aunty than a hard push from a sales veteran.  That, and a power lift gate.
2017 Acura RDX
Aunty has a pal named Bocho who loves her Acura SUV.  Acura is Honda's Lexus (Lexus is the high end line of Toyota).  It was a bit difficult to find the Acura of Honolulu entrance because they are under construction and the sales people are at a disadvantage without a showroom.
The RDX was the largest of the the compact SUVs that Aunty checked out, and would take a little time to get used to the bigger size.  It had a beautiful interior with a comfortable head rest.  All the bells and whistles with lane change assist, keyless entry and start, AND it had a power lift gate!
Aunty had to wait quite a while in the waiting room for a salesperson.  It must have been a very busy day or they had very few salespeople on the floor.  There was an almost chaotic feeling in the place but it disappeared once Aunty got behind the wheel of the Acura RDX, where peace and quiet followed.  This is a rather luxurious SUV, with that good leather smell and upgraded details.  The ride was smooth and quiet.  It was rather expensive, $43,000 for the model that Aunty drove.  The only flaw that Aunty found was a jumpy acceleration, and that it was a little bigger than what Aunty was used to.
Aunty was promised a quote that afternoon for one of the color combinations that she found on the lot.  The salesman's call never came, so the Acura RDX was automatically out of the running.  Actually, if Aunty REALLY loved it, she would have pursued the salesman with a call, but more SUVs were out there to discover and find.
2017 Honda HR-V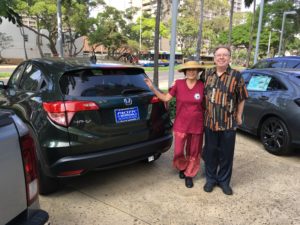 This was one of the compact SUVs that would make Aunty's head swivel around for another look whenever one passed or crossed her path.  It was a little smaller than Honda's CR-V, which was the perfect size that Aunty was looking for.
Aunty visited Pacific Honda in Downtown Honolulu and met with Gordon Santucci.  Gordon was very knowledgeable and confident, being one of Honda's executive sales consultants and representing one of the best car companies with the best vehicles.  He pulled out a spiffy looking white HR-V and we took it out on the freeway, up a steep hill, and back to the showroom.  Aunty was impressed and loved it.
The interior was very nice and comfortable, the ride was good, the gas mileage better than other SUVs, and it handled the steep hill without a problem.  The rear seats had a very creative way of folding up if needing "tall" space, as well as flat for conventional space.  The neatest feature was the right lane video view when the right turn blinker was engaged – no blind spot and 100% visibility of oncoming obstacles!
This would have been THE perfect choice for Aunty except it did not have a power lift gate.  Aunty returned to see Gordon again, just to check out how difficult the lift gate was to open and close.  Unfortunately, it was as difficult for Aunty as her current Subaru XV Crosstrek, so this wonderful SUV was out of the running – until they add a power lift gate one of these days.
By now, Aunty's car buying energy was spent, and it was time to choose her next chariot.  Stay tuned, the next post will reveal da winnah!
About The Author
Related posts