Be Be Cream = mercury bummers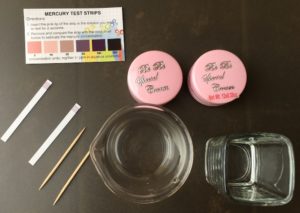 Aunty was all excited to share her age spot busting discovery (thanks to Pal Cookie/Lee) in the inexpensive pink plastic Be Be Cream from Cambodia.  Truly, it worked!  Aunty's age spots faded to the point of wonderful – and people who got up close and touchy (face massage, hair dresser, etc.) would tell Aunty that she had beautiful skin, woo hoo!
HOWEVER, a comment from reader Yuko on a recent post about morning stretches warned about the dangers of mercury in this Be Be Cream.  She tested it and found that it contained mercury, so Aunty ordered test strips from Home-Health-Chemistry.com;  it arrived from Israel (!) today, and with trepidation, Aunty tested 2 containers of Be Be Cream – one that was from an older shipment, and one that was from a new shipment – slight packaging differences and slightly different color.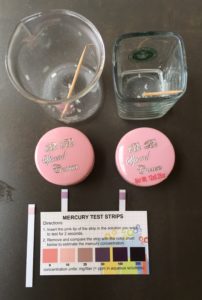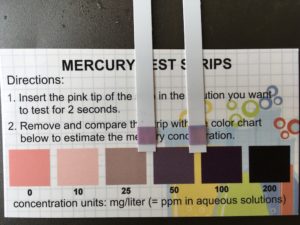 Such a bummer.  Both creams tested positive for mercury in the 50 ppm range (or slightly lower since it wasn't as dark a purple as the comparison color chart that was provided.  So sad.
FDA cosmetic regulations on mercury were as follows:  Mercury compounds. Mercury compounds are readily absorbed through the skin on topical application and tend to accumulate in the body. They may cause allergic reactions, skin irritation, or neurotoxic problems. The use of mercury compounds in cosmetics is limited to eye area products at no more than 65 parts per million (0.0065 percent) of mercury calculated as the metal and is permitted only if no other effective and safe preservative is available. All other cosmetics containing mercury are adulterated and subject to regulatory action unless it occurs in a trace amount of less than 1 part per million (0.0001 percent) calculated as the metal and its presence is unavoidable under conditions of good manufacturing practice (21 CFR 700.13)  What does that mean – eye are products are okay at 65 ppm, but all else is 1 ppm?
More about Mercury poisoning
The FDA also has a page about Mercury in skin care products.  It is easily absorbed into the body by the skin and an absolute no-no for pregnant women or children.  Signs and Symptoms of Mercury Poisoning include:
irritability
shyness
tremors
changes in vision or hearing
memory problems
depression
numbness and tingling in hands, feet or around mouth
An international watchdog also seized products that were being sold as skin whitening from various stores in the Philippines and some of these had shockingly high ppm numbers (parts per million) ranging in the thousands!
Let the Buyer Beware
Aunty remembers playing with liquid mercury as a child in science class.  The silver colored element was fascinating, breaking into little balls that could be joined together into a bigger blob that gleamed and rolled around in our hands.  Aunty also eats a LOT of raw fish and has a silver filling that is covered with a gold crown that will be soon replaced.  Flu vaccines for adults supposedly have a form of mercury used as a preservative.
Some readers have decided to purchase Be Be Cream online and have loved the results.  Aunty also loves the results and is now in a dilemma.  Stop using and get back the age spots on her face?  Or, continue to use and do heavy metal elimination every so often?  What do you think?
How to detox mercury
Reader Yuko did a natural detox method over a period of 40 days of morning shakes.
Aunty will do EDTA chelation at her doctor's office (Dr. Takemoto-Gentile), though not solely because of the Be Be Cream.
Google searching health websites about mercury detoxification mentioned cilantro as a natural agent (also known as Chinese parsley).  Here is a rather good article about what to do:  How to Detox from Heavy Metals and Mercury.
Ah, the things we do for beauty
Yuko's comment was a wake up call that Aunty really didn't want.  Apologies to readers that got as excited as Aunty and purchased this wonder cream.  and Mahalo to Yuko.
The price we pay for beauty can be very high.  It's just too bad that old faces with splotchy age spots aren't "in".  Aunty has some thinking to do.
About The Author
Related posts