Easy Easy Costco Burritos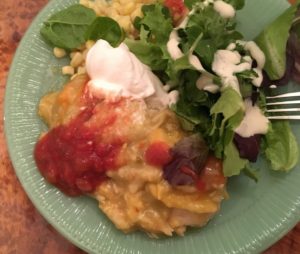 This was a recipe link from Amy Lynn Andrews, a blogger that I follow because she gives good website advice.  She also shares good tips, and this recipe was super EASY!
Easy is important, because Aunty does NOT cook very well, and is the take-out queen of plate lunches and zip meals.  However, fresh and hot is better for the family, so if you have good easy recipes to share, please DO share with Aunty.
Truth to tell, the kids liked it but Aunty didn't really like this brand of burritos because it was too "fat" in size and there wasn't enough sauce in the pan.  Perhaps if I only used 6 burritos instead of packing in the 8 burritos, or used a "skinnier" burrito or a cheese enchilada instead, Aunty might have loved it.  Btw, Aunty's absolute favorite Mexican dish is from Azteca in Kaimuki Town – their Verde Cheese Enchilada plate.  Yum yum.  Yum yum!
1 package of 8 frozen organic Bean & Cheese Burritos from Costco (important step – defrost in the refrigerator the day before!  very important step, trust Aunty….)
2 cups enchilada sauce (more or less to taste) more is bettah!
2 cups shredded Mexican cheese blend
2 cups sour cream
Place burritos in bottom of baking pan
Pour enchilada sauce over the top
Sprinkle cheese on top of burritos
Bake in 350 degree oven for 45 min or until done to your likeness. Dollop with Sour Cream.  Enjoy!
Construction notice:  Aunty will be getting a facelift soon, by the good folks over at OneWaveDesigns.com because of some irritating little glitches that WordPress has, and their techie types speak their own lingo about c-panel stuff and widgets, apps, etc.  Aunty cannot handle and lately, Aunty's ticker tape stopped functioning, and then a warning at the top of Aunty's website was really frustrating, so time to bite the bullet, pay the piper, and get a new and better look with support! 
About The Author
Related posts