Easy fresh pineapple!
The easiest part of preparing a pineapple is twisting off the crown from the base.  Aunty used to hate the tedious chore of removing the skin with a peeler or knife.  Many times, more of the pineapple was thrown away because of how difficult it is to score off the tough outside layer and dig out those hard "eyes" in the flesh before cutting the yummy parts into bite size pieces.
However, Aunty found a better way to slice and dice this hard fruit!
First, cut in half lengthwise, and then again, lengthwise.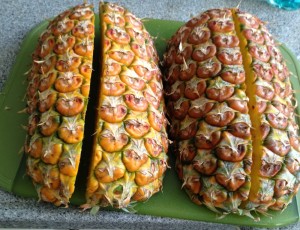 Then, use a knife to scoop the fleshy part of the fruit away from the tough outer part.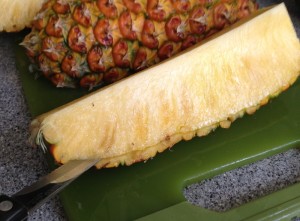 Cut off the hard core portion and cut the yummy sweet juicy wedge into bite size pieces.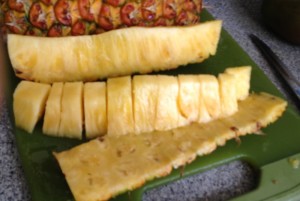 Eat, and enjoy.  Wasn't that SO much easier?
[pineapple eating tip:  if the pineapple isn't sweet enough for you, sprinkle a little bit of table salt on it.]
About The Author
Related posts