Eat to starve cancer and obesity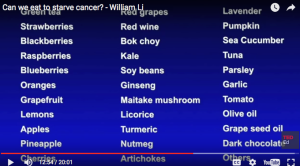 When Aunty was young, which seems eons ago, hardly anyone had cancer.  Now, it seems commonplace, heart breakingly commonplace, and too often – harsh and fatal.  We live in a different time, with different environmental factors as well as different lifestyles, and we need to take charge of our choices before it is too late.
This TED Ed talk by Dr. William Li of the Angiogenesis Foundation explains why and how we can eat common foods to beat cancer and obesity before it becomes symptomatic or a problem.  Please take 20 minutes to view and absorb this valuable lesson.  Meanwhile, please drink green tea, eat broccoli sprouts, tomatoes, garlic, red grapes, strawberries, and other yummy great foods.
About The Author
Related posts