Favorite Restaurants
Recommended if you want to impress with reasonable yuppy yummy food: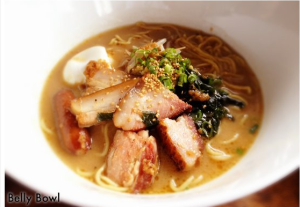 Lucky Belly, 50 N. Hotel Street in Downtown Honolulu on the corner of Smith and Hotel Streets.  This is like high end food – what you would expect at Alan Wong's if he really scaled his prices down – in a kind of grungy area.  Once you are inside, it is very young and hip looking with small tables and big rectangle plates.  Not only will it impress your out of town guests because of how it shines like a jewel in a dingy part of town, but the food, the food, the food!  Simply yet fancy.  The Shrimp Gyoza is to die for – only 3 pieces of gyoza filled with shrimp that you can taste surrounded by a delicious soy bean avocado and ponzu sauce.  The salads are super beautiful, not sure if I like it, but they are super reasonably priced ($5-$9!).  The ramen comes in a big deep bowl and the noodles and broth are wonderful.  My mouth is watering just thinking about the food here.  Aunty doesn't really recommend the sandwiches – maybe because of the bread.  Thanks to Pal Wanda for turning me on to this place!
Favorite local style eats:
Yama's Fish Market 2332 Young Street.  They have good plate lunches.  I especially like their poke and pupu selections that you order by the pound.  I always get at least a pound of their dried garlic/pepper ahi poke and their pulehu tako.  Great as omiyage (gifts) to take to the mainland.  Just make sure you put it in a cooler and bag each container in case of leaks.  Have it belly loaded and it will be near frozen by the time you reach your destination.  Just hope you don't have delays…
Zippy's.  The local favorite with at least one in every part of town.  Open 24 hours a day.  Our kids love their chili rice, I like the zip pac, Uncle likes their oxtail soup.  Check out their weekly coupons at http://zippys.com/live/promotions/online-coupon/ (sometimes the coupon site is not available, boohoo!)
Times Supermarket in Kaimuki has great plate lunches!  Surprise, surprise!  I went there after an errand to pick up some eggplant and saw a man ordering a roast beef plate lunch at the "taste of times" counter.  Thin sliced roast beef with sides of either rice, sweet potato, fries, mac salad, steamed veggies, and gravy.  All for $5.99 and it comes with a free drink!  I asked the man how it was, and he rolled his eyes and said, "Ono!" so I ordered the same thing.  Very happy.  Good food, not too many choices but everything looked good, cheap price, lots of leftovers.  I'll share with Uncle when he comes home.
Asahi Grill Ward Avenue.  Speaking of oxtail soup, this restaurant has a good one.  Lots of other good food too.  Parking lot is small, so feel lucky if you find a space.
Kaimuki Grill in the Kaimuki parking lot behind Hokkaido Ramen (also great place to eat ramen and ono gyoza).  Uncle and I went there – had our Groupon coupon (paid $7 for a $15 coupon!) and we had fried saimin noodles – excellent, and garlic steak – excellent, and a small salad – good!  Uncle had a couple of beers.  It reminded us of Side Street Inn, but it was 10 times better and half the price.  Food was very reasonably priced, service was friendly, place was small and open but not as noisy as Side Street Inn.  Parking is good – 75¢ for the first 2 hours, and after 9:00, you can even sing karaoke!  I'll spare you on that.  They are closed on Mondays.
Hokkaido Ramen in Kaimuki right before Kaimuki Grill.  Big bowls of ramen in either white or shoyu style.  Gyoza is really good.  Combo of curry, ramen and gyoza will fill you up.  My favorite on hot summer days is their cold ramen platter.  Big variety of toppings on a big platter of cold noodles with a ponzu-like sauce.  MMMMMmmmm good!  Get a card which they stamp for each bowl of ramen/or plate you buy, and after 10 stamps, you get a ramen free!  [Update:  They don't do the card stamping anymore.]
Good to Grill at 888 Kapahulu Avenue in the Safeway Store complex has good meals.  Everything is cooked fresh right in front of you if you stand by their huge keawe wood grill.  I have had their hamachi kama – OOOONNNOOOO! although it is a bit pricey at $16, but it can feed 2.  Uncle and I went there recently and had their evening special – prime rib!  Regular price was $14.99 but we got it for $9.99, shared that and a baby greens salad and we were happy.  Uncle had their kalbi – very juicy and tasty.  Friendly staff, fast service.  Good stuff!  [new note:  if you plan to eat at Good to Grill on Kapahulu Avenue, buy something at Safeway (next door) first.  The Safeway receipt has printed coupons on the back, and one of them is for a free soft drink when you buy $7 or more at Good to Grill.  That will save you $1.98!]
The absolute best buffet, unfortunately in the heart of Waikiki, is Kai Market in the Sheraton Waikiki Hotel.  Everything I ate there was fresh, cooked perfectly, and tasted wonderful.  Snow crab, alae salt prime rib, miso butterfish, salt and pepper shrimp, risotto mushroom pasta, tons of shrimp and scallop on cake noodle, melt in the mouth short ribs, and that is about half of what they have on the main dish line-up.  The chefs use local products as much as possible, so it also helps our local economy.  The service was excellent.  I tried a bit of this and that for dessert – all were good.  I finally got to have chocolate mousse the simple way (the way I like it) and my favorite dessert was the taro mochi with crunchy peanut butter stuffing.  SOOO ono!  Take along a small ziploc bag so you can take home some of the mochi, unobserved.  Locals get 25% off the tab so dinner runs around $30 without tip.  Valet parking is free (just make sure you tip the aloha way). [update: June 2011, went to the Kai Market for dinner.  Somehow it wasn't as good as the first time we went.  No miso butterfish, different menu.  Perhaps they have different entrees for different days of the week.]
Tanioka's in Waipahu.  Oh my goodness, where to start.  Okay, I'll start with what not to order.  Don't order their mochi chicken plate lunch because it is kinda dinky – just a few pieces of deep fried chicken rolling around in a big plate lunch container.  Just about everything else is DEElicious.  I love their spicy ahi/tako on sushi rice that they have on their refrigerated shelves.  Cone sushi, cut up roast pork, poke (all kinds), bentos, musubis with spam, chicken, fish, etc.  Fish patties, other okazu.  Always crowded but the service is fast and friendly.
Thelma's is another eating place in Waipahu with good food.  Thelma's Special is an artery clogging delight of pork lechon (crispy oily crunchy pieces of roasted pork) with chopped tomatoes, onions and soy sauce.  Drink CocaCola with it (I drink coke to cut the grease – can even be used to degrease your countertops, lol).
I also like Elena's though I don't know where they are in Waipahu anymore.   Elena's has a restaurant in Vegas! so when you are longing for good Filipino comfort food, drop in and have their huge Pork Adobo Fried Rice Omelette, mmm mmm good!  Pal Patricia and I used to go to Waipahu once a week and eat the pork adobe fried rice omelette, pancit, and banana lumpia.  Oh my, now I am drooling…
Favorite Vietnamese Restautants:
Hale Vietnam in Kaimuki – 1140 12th Avenue, phone 735-7581 open daily from 10:00 am – 9:45 pm.  Their prices have gone up a little, but their pho is still one of the best.  Savory tantalizing broth with fresh herbs and veggies served up with the meats (or non meat) of your choice.  Uncle always gets the extra large combination.  I usually order their vegetarian papaya salad (spicy, healthy and yummy!) or their mock chicken salad (yummy on sliced cabbage, also very healthy).  Sometimes we splurge and get an order of spring rolls – these are served with lettuce leaves in which we put the spring roll, pickled carrots, cucumber, mint, basil, noodles, and dip in the vinegar sweet sauce.  Absolute bliss.
Good friend Alan and wife Gwynne turned me onto another Kaimuki restaurant – Super Pho at 3538 Waialae Avenue across Kaimuki Park, open daily from 10:00 – 10:00.  This is a place with ZERO street appeal so you can easily miss it, but there is ample parking in the back of the restaurant if you can find the driveway.  Very large menu, prices are reasonable.  Uncle had the pho, the broth wasn't as rich and their combination didn't have as much meats as Hale Vietnam, but he said it was still good (high praise from Uncle).  I had their beef stew – more like a soup with an unusual flavor.  It was very tasty and filling.  The place is rather chilly with air conditioners going overtime, and the television screens are on at high volume – something that is totally not necessary for a dining establishment.  It makes for a very bad date place because the person facing the tv screen almost can't help watching tv during dinner rather than focusing on the person sitting across from them.  *note – now they have only a small tv, not so distracting.  Also, I think the cook has changed because the beef stew is thicker now, not as unusual tasting.  I liked the old one better.
Saigon's in Kaimuki = 3624 Waialae Avenue, phone 735-4242, open Monday – Saturday from 10:00 – 9:00.  Parking is based on luck, or you can park in the municipal lot and cross the street.  This is my favorite place for bun cha giao (pronounced BUN cha yao).  This dish is made with rice vermicelli noodles on a bed of sliced veggies , and topped with pieces of spring roll sprinkled with peanuts and fried onion bits.  Served with the vinegar sweet fishy sauce.  Absolute wonderful combination of tastes in the mouth.  They also have a vegetarian version of the spring roll, so for my vegetarian friends I order "vegetarian bun cha giao).  I never tire of this dish and I think I could eat it every day.  Nobody (imho) makes bun cha giao better, though Mai Lan on Keeaumoku is also very good.  The trouble with Mai Lan is that it takes so very long for them to make the order, it can get a bit frustrating waiting, especially if you are doing take out.
Favorite Thai Restaurants:
Thai Valley Cuisine in Kalama Valley – my Thai friend Ahlin always likes to try Thai restaurants and is very picky since she is one of the best cooks that I know.  We went for lunch and the food was excellent, fresh, and healthy!  Lots of parking since the Kalama Valley Center is not a bustling place.  501 Kealahou Street, phone 395-9746.
Mekong II on King Street – I love their mango sticky rice.  Yummmm.  Very nice people.  Next time, I will order just the sticky rice with coconut milk topping and put our own pirie mango slices over.  OMG, I am so hungry now.  *note – I think they went out of business……Sad.
Favorite Japanese Restaurants:
Sekiyas across from Kaimuki High School – my alma mater.  We used to cut out of school and get the cone sushi, fish patty, shoyu hotdog.  Okazu there is expensive now [very very expensive from Sekiyas], so Uncle and I don't order that way.  We sit down and eat from the menu.  Uncle likes their oxtail soup and hamburger steak.  I like their wun tun min or teishoku sets.  Warning!  Don't EVER order their beef tomato. It comes in a huge bowl and looks good, but it is fishy tasting – like the base was made with shrimp based saimin broth mixed with brown gravy.  Totally gross.  What is worse is that I ordered it twice!  If I order it a third time, I'm quitting.  I love their stir fried vegetables with chicken.  All entrees come with genmaicha (tea), tsukemono, miso soup, and rice with entree.  Love it, love it.  Like eating at home but you don't have to do the dishes.
Fukuya Deli in Moiliili on King Street IS the place to order your okazu.  Their selection is large, and the prices reasonable.  Parking is a bit on the tight side, so plan to go on the off hours from lunch or park on the street (metered).  Closed on Mondays and Tuesdays – somehow those are the days I am hungry for their food!
Zippy's Sushi bar – one in Pearl City and one in Kahala.  THE best sushi – especially the nigiri stuff.  I have dreams about the hamachi nigiri – huge thick pieces that overwhelm the small bit of rice and your senses.  They even have various teishoku specials – my favorite is their hamachi kama served with ponzu sauce.  Yummm.
New kid on the block is G Sushi in the Market City Shopping Center.  Pal Wandaful treated us to lunch, and Aunty had their $6.99 salmon bento.  What a pleasant surprise it was!!  The salmon was either fried to perfection, and came out hot and fresh with a delicious piece of gyoza and good rice (not too mushy, not too dry).  We also had salmon skin sushi (excellent and just grilled), spicy hamachi sushi (yum, yum, yum), and soft shelled crab sushi (more yum yum yum) all for such a reasonable cost, that I had to drag Uncle (remember, Uncle does NOT like trying new places to eat) there, and he was really impressed too with the prices, the quality of food, and how we were full and happy!
Favorite Chinese Food:
Little Village in downtown at 1113 Smith Street, phone 545-3008.  My go to place to impress people for lunch.  Their honey walnut shrimp tossed in a mayonnaise/garlic sauce and served with candied walnuts is fantastic.  Their eggplant w/ garlic sauce is not.  I forget what else was good there, but everyone who I take finds something they like.  The atmosphere is simple and classy.  They even have their own parking lot in the back – a major plus for any downtown establishment.
Lam's Garden across from Kahala Mall – 4210 Waialae Avenue, phone 735-3990.  The former owners had a thriving business with excellent food and loyal clientele.  When they sold their business, people stopped going partly out of loyalty and partly because of the change in menu.  Years after the transition, Uncle and I decided to try the "new" Lam's Garden.  We were pleasantly surprised.  I love sweet sour cabbage with pork (Uncle doesn't).  Theirs is the best – crunchy pickled mustard cabbage stir fried with thin slices of pork – always fresh and tasty, excellent with rice.  Uncle like to order their roast duck, and lately he orders the combination duck with chicken on rice.  Lots of rice, with a quarter serving of excellent roast duck and crispy skin chicken (nice and crispy thin skin on the salty side, yum yum).  When we want to splurge we get their steamed fish fillet – sometimes flounder but it sure tastes like sea bass.  Pieces of fish fillet with the delicate sauce of soy sauce, sugar, peanut oil, ginger and green onion.  Melts in your mouth because it is always cooked to perfection.  Best to eat family style.  And I get to take home quite a bit of my favorite sweet sour cabbage that way.
If you like salty spicy deep fried chicken wings (I am salivating as I write) with sauted chili and onions garnish, then the New Mui Kwai Chop Suey in Kaneohe is the place to order it.  They call it "salt and pepper chicken wings" and for some odd reason it isn't on the menu, but everyone knows to order it.  Located at 45-1052 Kamehameha Highway, phone 247-3230.  Don't know why it is called "New" because it has been there awhile.  Not sure what else is good there – I'm a one dish kind of gal when I order from them.  *note – the salt and pepper chicken wings got more expensive – $8 and you get only about 8 wing dings.  Sometimes it is crispy and wonderful, sometimes not so crispy and not so wonderful.  Still, it is worth taking a chance that Aunty will get a good batch, so we keep ordering when we are in Kaneohe.
Favorite Hawaiian Food:
Ono Hawaiian Food on Kapahulu Avenue.  Always a line, because the food is so ono.  Lau lau is good, but they always run out by the time we sit down to eat.   Automatic raw onions with Hawaiian salt when you order.  The owner is the best socializing PR for the place.   Last time we were there, we had a great conversation going on with the owner who is only a few years older than us.  All went well until we were leaving, and Uncle starts out the door and turns to the owner and says, "Tanks eh Uncle!" which is kind of an insult because that would mean he is way older – even though being called Aunty or Uncle is kind of a title of respect.  Uncle to uncle proper way of addressing is "Brah".  Much easier on the ego.
Young's Hawaiian Food in Kalihi near the police substation.  To tell the truth, I don't really like lau lau, but Young's makes the biggest bestest lau lau I have ever eaten.  Kalua pig, lomi salmon, and lau lau.  Mmmm Mmmm Mmmm.  Gotta have the poi too.
Favorite Korean Food:
Gina's BBQ in the Market City Shopping Center where Harding, Kapiolani and King Street intersect.  The mini Family Pack used to feed our family, and the regular size Family pack can feed a lot of adults.  Gina's vegetables are always fresh and tasty, and although greasy, the meats are ono, ono, ono.  After a concrete driveway pour, I ordered from their catering menu – the boys were very happy and their tummies were full.
While in the Market City Shopping Center, check out Duck Lee if you are hungry for excellent duck noodle soup.  It is a small place tucked in the corner, but well worth looking for.  Their roast pork has great reviews, but I've only had their duck so far.  5 quack star rating from me!
Aunty recently ate lunch with a friend at Red House in Honolulu – 835 Keeaumoku Street, phone (808) 944-0088.  What a pleasant surprise!  It was Korean food with a clean and modern twist.  Prices were reasonable for lunch.  Aunty had Bulgogi fried rice (perfection!) and mandoo, and friend Allan had hot and spicy tofu soup and the Chef's special chicken.  Everything was really good!!!  Yum yum yum.  Aunty will go again and try more items on their rather eclectic menu. [Uncle and I went there for our anniversary dinner.  It is much pricier for dinner and the portions are the same size.  Next time we'll go for lunch instead.]
Youncy's Korean BBQ at 888 Kapahulu Avenue has really delicious Kim Chee Soup and her sides are fresh and good.  The owner is extremely nice (important to Aunty).  An unexpected pleasant surprise was her hamburger steak plate lunch!  The hamburger was really good and the gravy was what you would expect from a 5 star restaurant!  This place has become our favorite take out dinner spot.  Everything is good there!
Mama Woo's on King Street – heard a lot about it, all positive, but Aunty was upset enough to write a 2 star review of the place on Yelp because of how skimpy they were for me, but piled on the food for the next person.  Really plenty rice, chicken was good, but the salad tasted a little bit spoiled – maybe because Aunty was kinda upset.  Mama (I think it was the owner) also needs a bit of friendliness in her attitude.  Hopefully she will learn how to return a smile with a smile instead of a stare.  This one is an unfavorite.
Fine Dining:
Uncle and I don't go out to expensive restaurants.  Uncle can be very embarrassing to be with if the food is very expensive, and the portions are small.  He has been known to ask the waiter/waitress if they dropped some of the food because it looks like food is missing on the plate.  It is with great trepidation that I go to a high end restaurant unless I know for sure he will enjoy the food, regardless of price or size.
Alan Wong's at 1857 S. King Street, 3rd floor (808.949.2526) does not disappoint.  Everyone who ever went there would rave about the food, but that held no sway with Uncle.  However, since we had a BIG gift certificate from one of our favorite daughters and it was expired (they still accepted it), we had to use it all up at once.  Pricey, but the service was good and not snobby.  The Chopped Ahi Sashimi and Avocado Salsa Stack was to die for.  A little bit spicy and with little crunchies,  $19.95 worth of taste bud bliss.  We had a couple of other appetizers but this Stack was such a winner, and the others were distant seconds.  The tomato, beet, and avocado salad was a bit strange, though the table next door told us how much they liked the li hing dressing (served as dots on the plate).  I think next time we'll get the simple salad with Alan Wong's dressing.  Uncle had a nicely done Rib-eye steak, and I had a wonderful steamed opakapaka, kind of Chinese style with pork hash on top.  Really heavenly.  It truly was the best and worth every dollar.  So much so, that Uncle said we should go back to eat there at least once a year.  THAT says a lot.
Non local regional food:
Soul on 3040 Waialae Avenue (in Kaimuki) across from City Mill.  Parking is limited and shared with a bunch of other eateries, so we usually park across in the City Mill lower parking lot for $3.  Have gone there twice and plan to go back many more times.  Soul has Southern style cooking with a modern yuppie edge.  Not as oily and greasy as the authentic stuff – but it is ONO!  Have had the pulled pork adobo with coleslaw sandwich, the vegetarian chili is good, fried chicken is excellent, ribs are good, cornbread is drier and coarser than what I am used to, collard greens are really good (and that is from someone who doesn't like her vegetables!) and hands down it is just great food in a very nice homey atmosphere.  Chef Sean Priester is usually on site, sometimes even taking orders before the crowd starts to arrive.  Nice man, great food – what a combination! [Update: Soul is no longer here, boo hoo!  He now operates out of a food wagon.]
Las Vegas Eateries
Mother's Korean Grill at 4215 Spring Mountain Road, phone (702) 579-4745, has the absolute best yakiniku dishes – I order their beef brisket – thin thin slices of beef cook up crispy really quickly and then dipped in a sauce of sesame seed oil with salt and pepper.  Daughter orders galbi – unrolled before you on the grill – sweet, savory, delicious.  The side dishes that accompany are beautiful and tasty.  So many wonderful side dishes!
Hedary's Mediterranean Restaurant at 7365 W Sahara Ave (western part of Vegas), phone  (702) 873-9041 has the BEST lamb shank that I have every had.  Falls off the bone with a flavorful, almost vinegary taste that tastes like it took hours and hours to cook.  Good side salad and grilled vegetables are standard and come with the meal.  I wash it all down with my favorite – Coca Cola.  Bliss.
On my last trip with friends, we stopped at the Cheesecake Factory for their happy hour pupus.  For $5, you can choose from the happy hour menu.  Our waiter helped us choose, and everything he recommended was unbelievably delicious and fulfilling.  We had avocado rolls (SO delicious – rolled with salsa and deep fried), fire roasted artichoke with 2 delicious dipping sauces (probably my favorite), corn tamales that were quite wonderful, lettuce wraps with tamarind and other dipping sauces, and guacamole special mix.  I think we ordered about 7 dishes, and we were happily stuffed.  Washed it down with refillable cokes.  Happy happy happy.
About The Author
Related posts