First Class – Or almost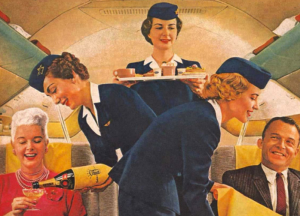 Whenever I am on a plane, I get antsy and wish I had this or wish there was a way to get more comfortable.  I want planes to have seats that convert into beds and cloudlike cushioning with fine cotton down blankets and pillows.  I'd love to have popcorn and an unobstructed view of the movie screen as well as a guilt free indulgence of reclining my seat and not worrying that I am scrunching the knees of the guy sitting behind me.  And I want my food soon after takeoff not after the snack/headset card and the beverage cart.  Airlines don't provide this for Aunty, so Aunty prepares for flights in order to get comfortable.
Please check out Aunty's Travel Saving Tips for little ways to save money while traveling, and Aunty's Travel Packing Tips for what and how to pack for your trip. Please continue reading this page for Aunty's style of travel:
Fly First Class
It makes a huge difference on flights over 5 hours.  Almost every flight out of Hawaii is longer than 5 hours, so Aunty uses her booking skills to fly first class at least on the way back from a trip.
Hawaiian Airlines is Aunty's favorite airline because it is local and they feed you for free.  The quality of food has gone down, in Aunty's opinion, but still, it is pretty good compared to no food at all.  Their Hawaiian Miles program is the best in that it is easy to get miles with the Hawaiian Miles VISA (up to 35,000 miles with a new card, and 1 mile per $1 spent), free and easy to transfer miles to someone else, and upgrading to first class is easy to do if you have enough miles.
[See Aunty's post on getting more Hawaiian Miles from other sources.]
Aunty finds her round trip coach flights on Hawaiian Airline's website.   If you fly enough to qualify as Pualani Gold or Platinum, or are in the Premier Club, you can "hold" these flights for 2 days.  Then, call the toll free reservation number for Hawaiian Airlines (1-800-367-5320) and ask how many miles it will take to upgrade to first class for one or more of the flights.  If they say 25,000 miles, that is a good "price".  If I am sure I want to go on the specific itinerary, I then book it online, and then ask reservations (you must call them) to upgrade that flight segment to first class using miles.  This "good price" of miles is only available for the first 6 reservations in first class, so it must be done early on.  After that is will cost 50,000 miles.
Another way to reserve a first class seat besides paying big bucks for it is to book that segment of your trip using miles.  40,000 miles is the lowest I have seen it for a first class seat, confirmed.  Considering that it is just 10,000 miles more than upgrading using miles makes this a viable option, and another reason to get more Hawaiian Airlines VISA cards.  Please be responsible with your credit cards and aware that they carry annual fees.  They will also hit your FICO credit score so cool it if you are planning on taking out a home loan.
Still another way to upgrade is to check in for your flight 24 hours prior to its departure on the Hawaiian Airlines website.  It will give you an option to upgrade and/or change your seat.  Say yes (you can always get out of it) and if seats in first class are available, you can upgrade for about $300-400.  This is a great option if you "bought" your original itinerary using miles for economy seats (as low as 17,500 each way) – it would be as if you paid ~$350 for one way, and used 17,500 miles to upgrade.  You will also automatically get to check in 2 bags for free – so you "saved" $60!
First class on Hawaiian Airlines is wonderful.  Leg rests that have foot rests attached to keep your legs comfy, complimentary digi players with good ear muffs to whittle away the time with movies, really good food served hot and on real plates, big comfy leather seats and attentive flight attendants with free drinks whenever you want.  [Note:  not all airlines are as good, and some are better.  Please leave comments below on your experiences with first class on different airlines.]
They say that once you ride first class, you never want to go back to coach.  It is true, but at least half the time, Aunty sacrifices and rides coach.  The other half of the time, Aunty gets to ride in style.
If it can't be first class, make it almost first class
Pay a little extra for your seats.  On United, you can upgrade to Economy Plus seats.  5 extra inches makes a difference, really does.  Once you are on the airplane sitting in a seat that has more leg room, you will be patting yourself on the back for spending the upgrade fee.  On Hawaiian Air, if you do web check in 24 hours prior to the flight, you can pay a bit more and sit in one of those bulkhead seats.  I like row 11 seats, just behind first class, so I can watch first class passengers get their hot towels, wine, entrees, desserts, digi players, etc.  I tell myself I'll be sitting up there next time and half the time I am, using miles to upgrade for my return leg.
Recently, because Aunty has Pualani status (fly a lot per year), upgrades to those bulkhead and exit rows are free if they are available.  Aunty got upgraded to seat 33C, an aisle seat with plenty of leg room.  Hawaiian Airlines' new Airbus planes have seats that are 4 across in the middle (yuck), and on the bulkhead rows, only the middle arm comes up, so even though the seat next to me was unoccupied, Aunty was stuck in a one-seater instead of being able to really spread out and lie down.  Still, it was a good flight and Jeannie sitting in 33G was good fun.
Gadgets that help
I pack my 1st Class Sleeper – it's a blow up cushion that takes about 10 breaths and it envelops my back and sides.  It's pretty good, but I usually don't blow it up and use it if I am alone.  It also squeals a little when deflating after landing, but it does make for a more comfortable back and sides, though not for the butt.  It costs about $35 and sometimes less on Amazon.com.  It helps to have Uncle with me so I don't feel so weird blowing the thing up and settling myself in.  If I fly first class, I don't need stuff like these – more incentive to fly first class.
I also have a self-inflating seat pad made by Therm-a-rest that really helps my butt from hurting from the hard seats.  (I got it from Amazon.com for about $24.)  Hawaiian Airlines' new AirBus planes are nice with their individual movie screens and straight seat backs, but their seat cushions are really hard so the Therm-a-rest seat cushions are good to have on those new planes.
Aunty recently bought the Travelrest pillow.  It cradles against the side of your head so sleep comes easy and necks aren't tortured.  It blows up with just a few breaths and is deflated with a touch of a button.  Aunty will be making a slipcover for it since it is made of flocked vinyl and Aunty rather have cotton next to her face when sleeping.  It's small and will fit easily in the carryon bag. [update on this pillow – it doesn't work very well, or maybe Aunty needs to learn how to adjust it.  It also loses air.  2 strikes and Aunty tossed it away.]
Almost like first class food
I try to buy musubis from Mana Bu's on King Street to take on the plane if I have an afternoon or later flight.  They are extra delicious on the plane.  Or, I make my own musubis (not as good) or small sandwich or snack because sometimes I get hungry before the inflight meal is served, or the inflight meal just doesn't appeal to me.
Zippy's zip packs also make a pretty good airplane meal. It is a bit offensive when you first open it up on the plane because of the spam/beef/fish, etc smell, but it is ono when you are hungry.
Hawaiian Airlines is one of the few airlines to still serve food for free inflight in the economy section.  They also have food for purchase.  DON'T get their sushi and teri chicken platter.  Mooshy rice, cold chicken with teri sauce that migrates under the sushi.  Yuck.  Save your money and take the free food instead.
Bring an small empty water bottle – make sure it is empty so it passes security.  Fill up after you clear security.  My favorite water bottle is Evian – not because of the water inside, but because of the bottle top.  Instead of having to unscrew the top and drink or pulling up on the top to open, I simply flip and suck.  Sounds terrible, but really, it is the best.  I stick the bottle in the pocket of the seat in front of me so it is readily available throughout the flight.
First class sound
I bring my own Bose head sets – get the over the ear ones.  The on the ear ones are smaller but after awhile, my earlobes get sore.  If you have an iPad or iPod, download some good music, or use the airlines' video and/or audio options.  It helps a lot to cut out the airplane's drone and escape into pleasant favorite songs.  Don't be like Uncle though.  He starts singing and humming or beating his water bottle in time to the music.  Not appreciated by the person in front.
More tips on using Hawaiian Airlines
Hawaiian Air also has an option to purchase Hawaiian Coach Plus seats.  The seats aren't bigger, you just have the ability to change your flight dates and times without penalty if the cost of the flight is the same as when you booked.  Another advantage of this option is that you get to check in 2 bags for free (saving you $60.)  If you will have bags to check in, book your flight this way.  Just this week, I had to change a flight to a day later.  $16 (!) is what I paid!  Some other days were free and some were more, but no change order fee of the typical $150 and very easy to do online on Hawaiian Airlines' excellent website.
Another advantage of being a member of Hawaiian Miles is how you can use your miles for someone else, and also the ability to share your miles with anyone (or vice versa) at no extra cost.  United has a good mileage program, but it costs quite a lot in usage fees if you book and upgrade.  It also has a hefty fee if you share your miles.  The way to get around that on United is to book the flight for the other person yourself using your mileage account.
IF United makes any changes to your itinerary (i.e. time or route change), you then have the ability to change your flight to another day, time, etc. at no extra charge or change fee. Good to know.  The earlier you book your flight, the more chances there are that there will be schedule changes within the airline.  I am not sure if this rule applies to all airlines, or only UAL specific.  Will let you know if I find out more.
If all else fails, zone out
My flight attendant pal Starley told me about Lorazapan – a prescription sleeping pill that knocks you out and doesn't make you feel drowsy after.  My artsy pal Wanda told me about No Jet Lag (from Whole Foods) that banishes jet lag.  Well, on a recent trip with Uncle, we had the dreaded redeye from Honolulu to San Francisco leaving at 11:00 pm.  We packed some home made musubis, and I brought along Lorazapan and No Jet Lag.  I took one Lorazapan right after takeoff.  Didn't feel a thing, still wide awake and telling myself to go to sleep.  Then I ate a musubi, had some water, and chewed on a No Jet Lag.  I was out and did not wake up until we were landing.  First time ever that I slept that deeply on a plane.  Chewed another No Jet Lag and then another a couple of hours later.  Instead of feeling horribly tired and weary, I felt great.  Thank you Starley Barley and Wandaful!
Don't get airsick
Once in a great while I start to feel nausea from a rocky approach landing or inflight during turbulence.  Li hing mui (salted dried plum) and ginger help, but if I don't have those with me, a little acupuncture pressure point does wonders to ward off air sickness.  In the area between your thumb and forefinger, where it makes an inside corner, squeeze with the thumb and forefinger of the opposite hand about a knuckle's length in.  Squeeze medium hard and alternate.  This is also good for helping to ease headaches.  The bigger your headache, the more sensitive this spot will be when squeezed.  Squeeze for 5 seconds, release for 5 seconds, and repeat over and over, alternating to the other hand after about 3 squeezes.
I really do love flying on Hawaiian Airlines.  I used to resent the fact that they outsourced the reservations and web support to the Philippines – for after all, shouldn't our only remaining local airline be local all the way?  However, I have come to realize that the agents on the other end of the phone in the Philippines are very very good.  Recently I had a problem redeeming an e-certificate online, and had to call the toll free number to remedy.  The agent Nelia spent a lot of time on the phone with me, was super polite, very attentive to my needs, and never once revealed any exasperation in her attitude with me.  As I get older, it seems like the young people get more impatient with me, so it is very refreshing to be treated with respect and patience.  Hats off to Hawaiian Airlines for training their agents to be consistently customer service oriented.  Be nice to older folks – one day you will be older too.
Book using this link below and Aunty gets affiliate bonuses!  Mahalo in advance!
About The Author
Related posts