Fiverr.com is even better than kim chee soup!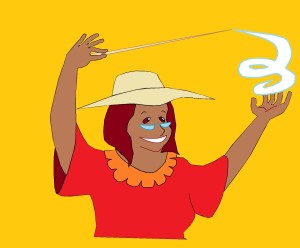 Aunty used Fiverr.com a year ago in order to buy a cartoon rendition of herself to use on business cards, as a logo, etc.  I was looking for a hand drawn rendition since the Fiverr seller had a hand drawn self portrait on his profile.  A few weeks later, a computer generated image of something that looked like Cinderella's brown fairy godmother in a muumuu arrived (see picture on left).  Aunty was not satisfied and thus put Fiverr.com in the "Nah, not now" category.
This year, Aunty decided to change the look of Aunty's avatar (picture that links to an email address/user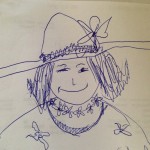 name when posting on other sites) so tried Fiverr.com again.  Aunty can be cheap sometimes and $5 is cheap!  Granted, Uncle did a drawing for me for free, but it looked a little bit too much like a happy witch with stringy hair, no lips and one squinted eye, so needless to say I decided not to use his version of Aunty.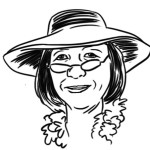 I paid $5 and hired a young female artist going by the user name Eliana93fer to make a caricature of Aunty from a photo.  Shazaaam!  I love it!  It is now my new avatar, on my new business cards, and also on Facebook and this website.
I also met Chad Lamothe on Fiverr.com.  His user name is chicagoslim.  For $5, Chad did a 18 minute video critiquing the HonoluluAunty.com website, blasted it on almost every level, and also made many suggestions that were super duper.
So, Aunty hired him to redo the old blah website, and tadaaah! Aunty now has a better looking, better performing, more user friendly website!!  The redo cost more than $5, a hundred times more, but it has been worth every penny.  I am hoping that Chad will do a guest post on websites later on for Aunty.
I highly recommend Fiverr.com – with a caveat.  Some of the vendors are mediocre, some are good, some are awesome!  For $5, one cannot go wrong, unless you really rather have kim chee soup, mini serving, take out.
About The Author
Related posts