Grannie's Crispy Skin Broiled Chicken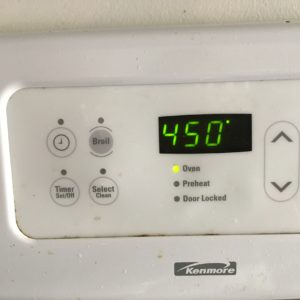 I remember savoring the smell and hearing the crackling sounds of the chicken in the oven as it sat and cooked when I lived with my mother, aka Grannie to our kids.  Make sure you have a self cleaning oven because this is not the neatest of recipes.
Wash and pat dry a whole chicken.  Throw garlic salt, pepper, rock salt, whatever into cleaned out cavity.  Apply garlic salt, pepper, and rock salt to outside of chicken also.
Preheat oven to 450º.  Put seasoned chicken breast side up in glass roasting pan and bake for 45 minutes at 450º.  After the initial 45 minutes, turn oven off, and do not open the oven door until 45 more minutes have passed.
Remove from oven, chicken will be sizzling hot.  Allow to cool for a few minutes before slicing to serve.  I sometimes use the drippings to make gravy after, but usually not.  I just dig in and grind.  Moist inside, crispy outside, delicious through and through!
About The Author
Related posts