Gurus of Wealth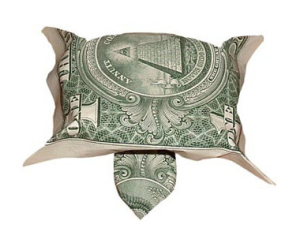 The best way to get wealthy is slow and steady, not fast and risky.   "But I don't have any money" is the most common cry and stops most people in their tracks.  Successful people will find a way so they do have money to invest.
The following are a summary of programs/authors/subscriptions/methods that I have tried and my recommendations based on personal experience that are specific to wealth building:
Michael Masterson is a prolific author of many wealth building strategies.  I highly recommend his book "Automatic Wealth" as a blueprint of setting your path to success.  I have learned to make better use of my time using his 7 year/yearly/monthly/weekly/daily/hourly planner method.  The magic of his method is that it encompasses more than just the financial aspect of your life.  You will also include your health, personal life, social aspects, and spiritual if you so desire.  Michael writes a column on an occasional basis on Early to Rise.
Mark Ford

aka Michael Masterson, now writes on a regular basis for the Palm Beach Letter (subscription price of $99 annually).  He explained why he changed his name, and it really doesn't matter to me because this man is a genius at giving valuable advice for wealth.  If Aunty could choose just one source to recommend for money, investment, income advice, it would be Mark Michael Masterson Ford.  Aunty just signed up for his Palm Beach Wealth Builder's Club.  The subscription cost was $1250 for the first year, and $87.50 annually.  To tell you the truth, Aunty almost called to cancel when I saw the charge on my credit card statement during an especially tough month, but I looked back on what I had received in the recent lessons, and knew that this was the "club" that had the strategies, support, and answers that Aunty needed in order to stay the path to get financial independence.  Aunty will share in cliff note format what I have learned as the lessons are flying into my email box, but to truly learn from this best of the best, Aunty recommends that you subscribe because some of his recommendations are not what Aunty would do, but you might, and vice versa.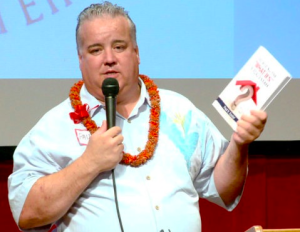 Hawaii Real Estate Investors Club run by Paul Xavier.  As the months and soon to be years go by of my investing growth, I have come to run the gamut of emotions about HiRei.  I first went there to learn about real estate investing and some of the meetings were excellent, some so-so.  The greatest value I have gotten from these meetings is finding fellow investors who are willing to share what they know, and becoming friends with these people.  I also learn a LOT.  Paul's depth of knowledge is quite amazing.  His ethics are good.  Sometimes his answers are too abrupt, but they usually ring true.  Come check out this group that meets on the first Thursday of every month at JCCH on Beretania.  Annual subscription is $120, guests can attend a meeting for $15.  Dues and parking are collected at the door, so it's not a freebie, but it is worth it.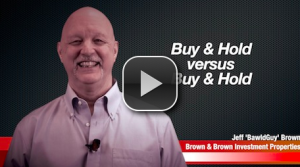 BawldGuy Talking
Jeffrey Brown has a great blogsite packed full of great financial info for the baby boomer generation.  Based in San Diego, he sometimes sounds like a Canadian with a Texas attitude, lol.  Not only does he write insightful witty articles, he also has guest contributors with top dog credentials and information.  One day I am actually going to call him since he keeps suggesting that we do so.  If you have a few grey hairs, check out Bawld Guy Talking.  Smart financial advisor, always learning, great judgement calls.  If you don't have a plan to get to where you want to go in your golden years, read his blogsite, and give him a call.  Let me know what he says.  If I call him first, I'll let you know.  [Wanted to let you know that I called Jeff Brown today.  We differed on many grounds, but I must say it was one of the best 90 minutes (!) of conversation and communicating that I have had for eons!  This is a very astute gentleman, and if I were to do it all over again, I would want to have him in my corner as my coach, referee, and friend.  That being said, there may be changes in our financial picture in the near future.  Whatever happens, it has to make sense for Aunty and Uncle, and it has to feel that it is right for us.  Confucious say, "When it becomes obvious to you that you cannot reach your goal, don't adjust your goal, adjust the actions which you are taking."  Bawld Guy Jeff Brown is something like a modern day Confucious.  Someone worth paying attention to even though his current target market is Texas and mine is Las Vegas.]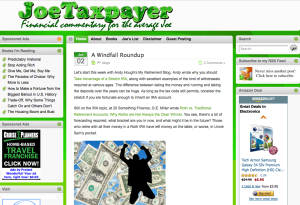 Joe Taxpayer
Joe is a smart young man with a common sense approach to wealth.  www.JoeTaxpayer.com, Financial Commentary for the Average Joe.  Joe is on the side of people like me – he calls a spade a spade.  One example is his research and rebuttals about a mortgage pay down program, the Money Merge Account by United First Financial .  This MMA program costs $3500, an overpriced multi level marketing scheme.  Joe even provides a free spreadsheet (see his page – the first link is his excellent and easy to use worksheet – highlighted in green – his MMA worksheet) that you can use to plug in your own numbers to pay down your mortgage faster, and if you use the $3500 as an initial principal payment, you are already much better off than buying the web-based MMA program.  HOWEVER, now that we are investors, paying off one's mortgage as fast as one can is not the best use of discretionary income.  Joe's website is a good one though not biased toward real estate.  It is a middle of the road eyes wide open and geared to opportunity kind of place.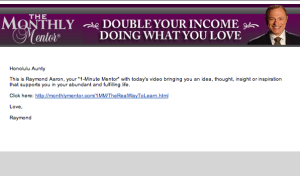 Raymond Aaron's Wealth Creator Program
I heard Raymond Aaron speak at a recent HiREI weekend event.  His system on goal accomplishment was excellent.  As a result, I signed up for his Wealth Creator Program.  Not only is Raymond an excellent speaker, he is also an excellent salesman willing and able to share his best tips and secrets.  He invented the MTO approach to goals.  M is for the minimum level of a goal – what you can be counted on to achieve, T is for the target level – which is a stretch, and O is for the outrageous – what you are sure you cannot achieve (but may end up achieving because you will be on a roll!)  If he ever comes to town again, make sure you sign up to hear him speak.  As an example of his high level teaching style, here is an interview with Robert Kiyosaki (Rich Dad, Poor Dad) that he sent to subscribers:  RK Interview.
I just started reading Raymond Aaron's newest book "Double Your Income Doing What You Love".  After a few pages in, I can tell – this book sparkles.  Its title does not do it justice.  This is one of the few books that are truly life changing.  I will write a book report after I read it.  Buy it if you can.
*Caveat:  Watch your expenses whenever you buy a program from a guru or mentor.  Some will sell you a program that allows you full access to resources/communication for a year, some will charge you fees on a monthly basis for a minimum of a year under contract – and these can be pricey!  Multiply what you are paying for on a monthly basis by 12 (months).  That is your annual outlay.  Ask yourself if it is worth it and you are getting value/action from it.  If it is, continue.  If it is not, discontinue asap if you are able to (READ the contract).  This was the case with Raymond's program, and I also had to pay a foreign transaction fee on my month charges because he runs a Canadian corporation.
Kung Fu Girl is on a break, but her free blog has much to peruse.  I look forward to her new posts in the near future.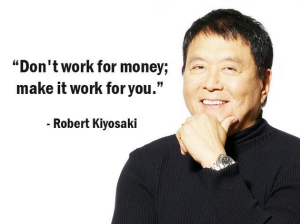 Robert Kiyosaki
Robert Kiyosaki was born and raised in Hawaii, but has left the islands to make it bigger and richer elsewhere.  I can see why – Hawaii is such a laid back place, not a place for someone who wants to move ahead.  Someone once described living in Hawaii as a slowing down in life – like walking through jello.
When Robert met and married Kim, his beautiful young wife, his journey and trials began, with the lessons that he learned from his "Rich Dad" on the island of Hawaii, as well as from Buckminister Fuller, and others.  He invented a game, wrote a book, got on the Oprah Show, and the rest was history, as they say.
It is Robert Kiyosaki's books and his Cash Flow game that turned the tide in Aunty's mindset and Aunty hopes to meet the great man one day soon to thank him in person.
About The Author
Related posts