Hawaiian good stuff to sign up for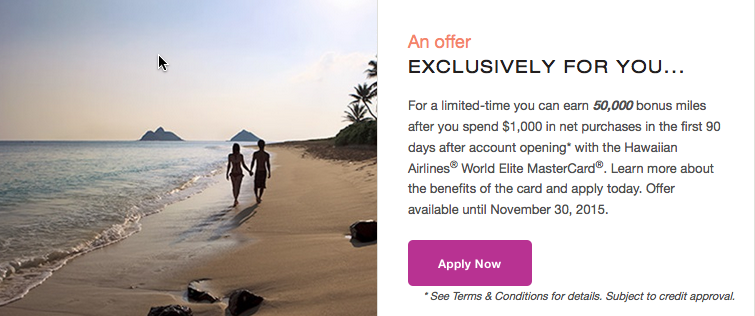 An almost freebie
News flash for those who like to get Hawaiian Miles:  Signing up for a new Hawaiian Miles credit card will get you 50,000 miles after you spend $1,000, but this is for a limited time.  Even my friend at Bank of Hawaii (who also issues this card) didn't know about it.
An easy way to get this deal is to go to HawaiianAirlines.com or click on the Hawaiian Airlines ad to the right of this column, sign in with your Hawaiian Miles membership number (or sign up for one first), and then after logging in, click on the "Apply now" tab and fill out the form.  If you don't log into your Hawaiian Miles membership first, you will not see the deal – which is only available until November 30, 2015.
50,000 miles!  Annual fee of $89.  Must spend $1000 in first 90 days.  Aunty has been declined twice in the recent past and been a bit huhu (angry) at the Hawaiian Miles credit card people but then figured, for 50,000 miles, no get mad, just try again.  And this time, they said OKAY!!!  **Update: this is a rather goofy offer and not everyone gets the 50,000 miles.  Aunty called customer service when a friend was only able to get 35,000 miles and was told by the card's customer service that some people have the offer (randomly?), and that they just need to check every once in a while on their account for the deal. 
Just make sure you use credit wisely.  Pay it off in full every month and on time.  Then, use your miles for free trips, upgrades, or give away to friends and family.  Also comes with a one time 50% companion booking if you have a buddy that you want to travel with during the next year.
A fun good freebie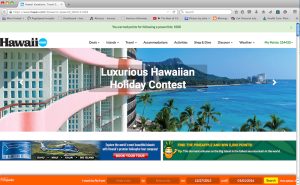 Another good Hawaiian sign up is Hawaii.com.  Pal Fay told me about this one.  Sign up is free and you can really accrue a LOT of points at start up.  After that, it is kinda good fun to get the emails, then click on the powerlink from the email and ta-dahhh, you get 1000 points, almost every day that you click!
Photographers (Jalna, you should try!) can enter their pictures of Hawaii and win too if picked.
Once a week, you can play find the pineapple and that will win you 5000 points!  Sometimes Aunty explores the well written articles on the website – some interesting tidbits of information that are good to share while socializing with friends.
Points can be used to enter sweepstakes for stuff like a holiday stay (good for Mainland folks who want to come to Hawaii) or coffee, nuts, all kinds of stuff, all for FREE!  Aunty has tons of points and planning to use all of them to stuff the ballot box in her favor one of these days.  Meanwhile, Aunty keeps clicking and hopes that people that she knows become winnahs!
(side note:  drawing for the pamphlets/booklets will take place on Sunday.  Please email Aunty@hawaii.rr.com if you want to be entered, or leave a comment on that post and your name is put in the pot!)
About The Author
Related posts