HIMA – Hawaii Internet Marketers Association
Back in November 2013, Aunty attended the first HIMA meeting, not really knowing what she was getting into.  Aunty went just to support Randy Fujinaka's new venture because Randy is such a good guy.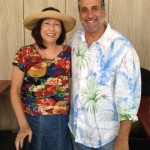 George Del Barrio and Thomas Trentz were the main speakers.  Tom's presentation was good – high tech power point slides and how to reach and utilize the internet to help market ourselves.  Geebz's (George Del Barrio) was much more informal and spontaneous, using social media as the springboard.  Both were experts in their fields, and Aunty learned tons!  The following month's meeting featured Kristen Robinson – a powerhouse in social media marketing.
For $10, HIMA provides a nice meeting at the Manoa Library (lots of parking), food (!) and water, and dynamic experts on timely topics sharing their techniques and wisdom.  After that first meeting, Aunty gladly signed up for her annual membership of $100 with HIMA.  We even got door prizes, and Aunty met so many others in the room by networking and talking story.
On the first Tuesday of each and every month, we get treated to great speakers that can help ANYBODY who has a business or a need to get their needs out.  These meetings are events that get the light bulbs popping on in our head.  They help us find our genius, our roadmap, our growth.
Here is a link to the March 4th event, starring the owner of Big City Diner (yum!) and how he incorporates Twitter into his business model, as well as other business insights: https://www.eventbrite.com/e/hawaii-internet-marketers-association-march-4th-event-with-lane-muraoka-tickets-10652681457
Hope to see you!
About The Author
Related posts