How did Princess Pupule pick plenty papayas?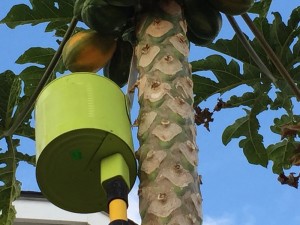 Fellow blogger Kay posts on an almost daily basis about her life, travels, trials and tribulations.  One of Kay's recent posts was about her husband's $20 fruit picker.  Aunty commented on it and wanted to share pictures of the one she bought from Koolau Farmers.  It was pricey – at $33.  However, after trying the standard fruit pickers and bruising adjacent-to-the-ripe papayas, Aunty caved in and got the Koolau special picker in lime green.
It is a simple tool, perhaps something that could be made at home, but Aunty felt that it wanted to be bought and, most importantly, it works wonderfully!
The attached bottom wooden block has a screw in thingee to accommodate telescoping poles, mop handles, etc.  A galvanized metal strip is riveted on the side of the can with a forked end to cut the fruit stems close to the tree.
Our prolific papaya tree is a bit strange.  It has no seeds, and 3 papayas grow off of one stalk, so it has been quite challenging to pick as the tree got taller and taller.  We have no clue where or how the tree started, but the fruit is smooth, fleshy and sweet like solo papayas.  The tree is a keeper and getting taller and taller.
Aunty's neck gets kinda sore looking up while aiming the forked strip just under the stalk but, once in place, an upward motion with the pole slices the appendage cleanly and the papayas tumble into the can.  Easy peasy!
Here's a tip for creative cooks out there:  Add cubes of green papaya to stews, curries, soups, and stir fry instead of potatoes.  The texture is wonderful.  I bet if Princess Pupule knew to cook with papaya, she wouldn't be giving them away.
About The Author
Related posts