Ichiriki Review (hint: onolicious!)
One of Aunty's daughters loves to eat out.  Ichiriki is her favorite lunch haunt because of their lunch deals.  Most of the nabes (hot pots) are $12.
The deal with the always hungry daughter was, if Aunty found a parking and we didn't have to wait for a table, lunch was on.  We were in luck and seated on a sunken tatami mat table right away.
Their menu is a feast for the eyes, and Aunty ordered the Pork Chanko ($11.95).  Hungry daughter wanted the Ribeye Shabu Shabu ($19.95) but the treating Aunty made her pick a cheaper lunch, so she settled for the Shortrib Combo ($11.95).
Next step is choosing the broth, and everything was appealing.  Daughter ordered the Pirikari – spicy shoyu base, and Aunty ordered the Shio Pirikari – spicy salt base.  Both were excellent.  They weren't too spicy, even if chili flakes were floating.  They were lightly rich, delicate yet strong.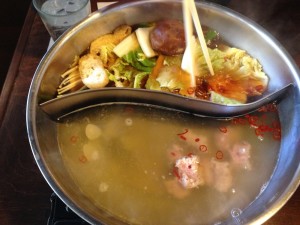 The cooking begins with scoops of ground chicken/pork tsukune which comes in a bamboo tube followed by the beautiful array of ingredients on the platter – onions, mushroom, meat, cabbage, tofu, aburage.
Pots are split for 2 people.  As you can see, Aunty is much slower in putting the ingredients in the pot than hungry daughter.
It is do-it-yourself cooking, very easy and fun.
The soup stock was boiling hot and cooked everything quickly and to perfection.  Somehow the server knew to come back at just the right time to turn the heat down.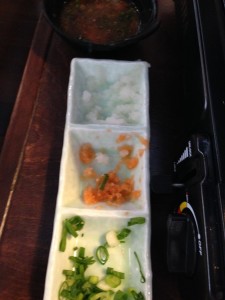 We ordered ponzu sauce with the meal – for 50¢ each.  Turns out to be the best 50¢ Aunty ever spent.  The lemon shoyu base is accessorized with both white and red grated daikon (radish) and finely chopped green onion.  (This picture shows the garnishes after Aunty mixed her sauce – sorry).  It made a heavenly dipping sauce that was so delicious, Aunty couldn't help slurping it up on the sly.
The rice was good rice, the meal was super satisfying.  We didn't want to stuff ourselves so we asked to take home our leftovers.  Can't figure out how they can separate the leftovers into the take out containers, but they did, and we had another mini meal at home the next day.
We went to the Piikoi location – 510 Piikoi Street across from the west end of Ala Moana Shopping Center.  A place to go back to enjoy, moo ichido, moo ichido.  Most onolicious, oishii to the max!
About The Author
Related posts