Kahai Street Kitchen = Yum!!!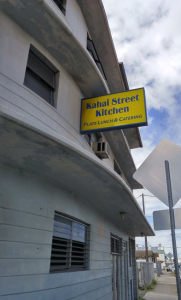 Remember the old Guri Guri place on the corner of King and Coolidge, then it was HK Drive Inn, then a couple of other places that didn't make it?  It is located just past First Hawaiian Bank and across the Moiliili softball park.
Well, it is now the Kahai Street Kitchen, and the food is DA BOMB!  Prices are a little higher than regular plate lunches but it is like eating the top chef local food on styrofoam plates.
Aunty asked a customer about the menu, and what was good.  She didn't know but she got to sample the Braised Boneless Shortribs and said it was ono, so Aunty ordered that ($12.95) and the Grilled Marinated Chicken Provencal ($9.25), both with tossed greens rather than the traditional mac or potato salad.
O.M.G. both plates were superb!  Cooked to perfection, the shortribs couldn't fall off the bone because it was boneless, but it was soft and the gravy was French-like, rich and flavorful.  The chicken was strange looking at first with stuff on top.  It looked like it wasn't going to taste good, but BAM! da buggah was SO good, the white sauce was not too heavy, not too light, but just wonderful.
Aunty took pictures of the menu board and saw even more entrees that tempted – which means, gotta go back!  Maui Potato Chip Crusted Mahimahi, several ono sounding salads, hamburgers, 3 different kind loco moco, sandwiches, local mixed plate combos, something for every taste, from simple to fancy!  They are open Tuesday – Saturday from 10:30 – 7:30, with menu specials that change and tantalize.  Aunty, the takeout queen is SO happy to find this kitchen!
Update:  Aunty went AGAIN to try something else.  Boneless Kalbi Shortribs with Kim Chee ($11.95) – rather sweet, very soft, good quality beef, and Crab Crusted Mahimahi ($13.95) in a delicious white wine cream sauce, topped with plenty real crab mix!  It was really great food, though Aunty has rediscovered that she doesn't really like crab – or maybe is used to the fake kind.  If you like crab, go for it because you will love it!
The folks there are also SO nice.  Aunty ordered 2 Korean Cobb Salads to go so she can act like she can cook to a gathering tonight, and they packed the hot stuff separate from the green stuff which Aunty will put together on a nice big platter and impress her friends.  All credit goes to Kahai Kitchen, but for just a little while, it will look like Aunty's creation.
About The Author
Related posts