Kim chee soup for the soul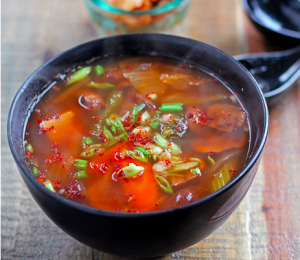 Uncle got a really bad cold – sinus, cough, sniffles, short of breath – really bad.  One of the best reasons to just zone out and watch tv is because you are sick and can't do much else.
So what does Uncle watch?  Korean dramas by the scoreful.  And every Korean drama has a scene or more of people eating Korean food with gusto and rice being stuffed into their already full mouths because it tastes so good.
It is almost like torture to watch if you are hungry.  One day while Uncle was having a coughing sneezing nose honking fit, we saw Mrs Go Bong Shil serve kim chee soup with tofu to her family and Uncle decided that was what he wanted to eat.
Aunty and #2 daughter went to Good to Grill in Kapahulu for their kalbi ribs (ono but a bit pricey) and next door to a Korean fast food place called Youncy's Korean Barbeque with….Kim Chee Soup on the menu!  We made a take out order (the only kind they have) of Spicy Kim Chee Soup which came with 4 veggies (very good and they don't skimp) and rice for a full meal.
Aigoo, aigoo!!  Uncle woofed down the food, smacked his lips and slurped down the soup with as much gusto as the Korean drama folks.
And then he felt much better.  His sinuses felt almost clear, and he was on the way to health.  We had kim chee soup 8 days straight for dinner and it has since become one of his favorite meals.
There is NO comparison between those instant noodle in a bowl soup and getting one from a Korean restaurant.  It looks spicy and hot, but is pleasing and soothing to eat and rather easy to make with fermented kim chee, onion, tofu, kim chee broth and some stringy pieces of well cooked beef.
Warms up your innards and does wonders for your well being.  Enjoy!
About The Author
Related posts