Korean Dramas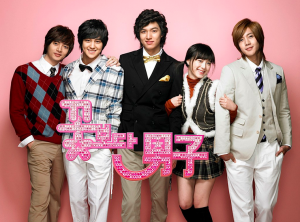 I don't watch too much tv, but sometimes I get caught up in Korean dramas with Uncle.
Our favorites are the historical dramas of the Joseon, Goguryeo eras with the unbelievable martial arts and political intrigues. We watch these on dramafever.com, dramacrazy.net, or mysoju.com. These are free (!), but beware – they are addicting!
"Boys Over Flowers" was one of the first to get me really hooked.  It is a frustratingly fun modern show about a feisty cute girl and 4 extremely wealthy boys.  Go Junpyo is the lead man, and he is SO good looking!  "Couple in Trouble" is another fun one – it is the Korean version of Goldie Hawn and Kurt Russell's "Overboard", and the lead man remind me of Uncle, except the lead man cries and Uncle never does.
One of the disappointments when Aunty got her iPad a few years ago was not being able to watch Korean dramas – something about flash not being supported.  Anywho, Pal Rayna told me about Viki – a free app to watch with my iPad!  Woohooo!!  Another vehicle with which to suspend my disbelief and escape to a world a continent and eras away!
About The Author
Related posts