Laters, alligators….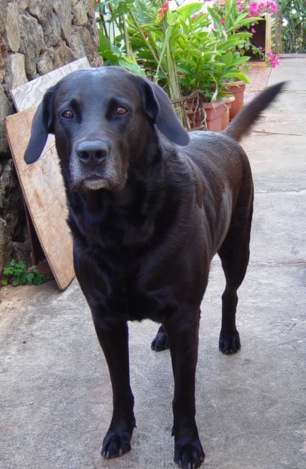 Uncle always looked forward to male companionship as he had a brew or two outside after a hard day's work, so Buddy was Uncle's best companion and listener since our household consists of a preponderance of females.
Buddy, a labrador/hound mix, was one of two family dogs, the other being Gracie, a female grey brindle pitbull.  Anyone who has or loves dogs knows how wonderful they are because of how they make us feel.  Special.
One of the biggest drawbacks of owning a dog is that they grow old and pass away too quickly, leaving us with a void in our lives that is haunted with the sound of rustling in the brush or their pantings and tail thumps.
Yesterday, Buddy was found lying on his side and breathing very heavily, and not able to walk.  His back legs would get crisscrossed, and he would lose his balance and fall heavily down.  After a quick google search about crisscrossed back legs, Degenerative Myelopathy turned up as the most likely culprit, and the prognosis was dismal, irreversible.
After a day of walking Buddy around with an improvised belly sling and a night of convulsions and cries, we knew that we had to put Buddy to sleep, asap.  In the morning, we called the great folks over at Island Veterinary Care, and under the very caring and calming hands of Dr. Lau, Buddy was euthanized at home.
Since this is a blog to share lessons, this is a post about the disposing of our family pet with dignity, and not breaking the bank.
The final farewell
The Hawaiian Humane Society at 2700 Waialae Avenue will accept animals – euthanize (you will not be present) and cremate them for $60 when you drop them off.  For $225 drop off, they will euthanize and arrange private cremation so you can pick up the ashes later.
The City and County of Honolulu's bulk pick up division (phone directory) will pick up dead animals for free, though not immediately.  We did consider this option, but could not detach ourselves enough from our memories of Buddy enough to consign him to a final farewell such as this.
For about $240 plus pick up fees, the Oahu Pet Crematory will retrieve your animal from your veterinarian and/or your place, cremate, and have the ashes ready for you at your convenience.  These fine folk also do the cremations for the Hawaiian Humane Society.
Our house call for Dr. Lau to euthanize Buddy at home was $457.  It could have been less had we taken him into the office, but I am glad we opted to be with Buddy in his familiar settings and watch him leave this world with such peace.  After that, we loaded Buddy's body into the car, and booked the private cremation services at the Hawaiian Humane Society.
The reality of not having Buddy hit me this afternoon, after I directed Gracie to the backyard and latched the gate.  I usually say to the dogs, "Laters, alligators!"  However, today, with just Gracie to address, it was, "Later, alligator."
To all the missing alligators out there:  Aloha oe, until we meet again.
About The Author
Related posts