Leaf and Life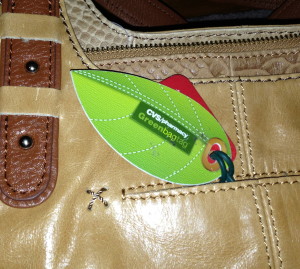 While helping good friend Wanda at the Aliiolani Craft Fair this Saturday, a delightful woman named Kathy came by.  She comes to Hawaii during the fall to watch her elderly mother and relieve her sister of those duties.
Being niele (nosey), Aunty saw a nice looking plastic leaf hanging out of Kathy's purse and asked about it.  Turns out to be a CVS leaf that is not available here in Hawaii (our Longs Drugs stores are now owned by CVS).  When you show that leaf at the register and use your own bag (not Long's plastic or paper bags), you get a credit of 25¢.  After four 25¢ credits, you get $1.00 in credit that you can use the next time you shop.  That is pretty cool stuff!  Pal Wanda will be getting a leaf for Aunty on her next trip to San Francisco (used to be free but now costs 99¢).
Meanwhile, Aunty signed up on CVS.com for an ExtraCare Rewards card so when Wanda comes back with Aunty's leaf, Aunty stay ready fo go get her discount!  Mahalo Kathy for that lesson, and Wanda for the leaf!  [update:  a few hours after signing up for Aunty's ExtraCare CVS Rewards, Aunty got a 20% off reward to use in the next 2 weeks!  Pretty good stuff!]
But that wasn't all that Aunty learned from Kathy.  Did you know that if you collapse and call 911 because of your poor health, accident, etc., the paramedics duty is to resuscitate you and bring you back to life so they can transport you in the ambulance to the hospital where they will continue to keep you alive.  Okay, maybe you knew that, and most of the time that is good.
If you have a "pull the plug" directive in your living trust, then the family must go to battle to have you off life support in the hospital, battling against the doctors and nurses who are there to keep you alive.  It is not an easy process and is a hard battle to go through for your family members who are not exactly happy to see that your will be done.
I dunno about you, but when it is Aunty's time to go, Aunty wants to go.  I have heard many people who were "saved" by the heroic efforts of the paramedics and later express their wish that they had been allowed to pass instead of being revived.  Their subsequent quality of life and the burden upon their family while living a non-productive, non-functioning and sometimes painful existence was not what they wanted.
So, Kathy taught Aunty about a form letter called POLST (Physician Orders for Life-Sustaining Treatment) that must be signed by your doctor after being filled out by you as to your wishes if you are in a emergency situation at home and the ambulance paramedics come to save you.  Post this on your wall or in plain view, and they will follow the instructions that you have chosen (i.e. do not revive, only administer pain relief, etc.) and not "save" you if you are dying.
Maybe this is not what you want, or maybe it is.  In any case, I thank Kathy for her sharing, and admire her for savvy shopping skills and kind heart.
About The Author
Related posts