Leap of Faith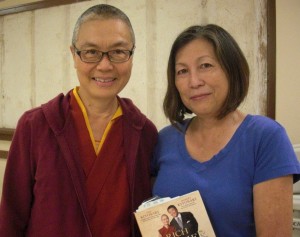 Today I attended a YWCA meeting and Cash Flow game – because Robert Kiyosaki's sister Tenzin Kacho was present.  I read Rich Brother, Rich Sister and was fascinated by the intertwining of 2 very different lives of siblings growing up in Hawaii – one pursuing financial wealth, the other pursuing spiritual growth.
Robert Kiyosaki is a powerhouse of investing and building businesses.  I hope to meet him one day, to shake his hand, and say thank you for waking me up enough to invest, take charge, become secure.
Emi Kiyosaki (Tenzin Kacho) took a different path, a flower child that gave up her regular (albeit hippy) life and followed the Dalai Lama's teachings, becoming an ordained nun.
I expected a monk-like female – a monkette.  I thought she would be almost silent, like the sound of one hand clapping.  Or someone with a gentle stare that could read all the good and bad in my soul.
Instead, with her orange robes and perky demeanor, she was just like a friend – with a shaven head.
Her lifework is that of a Buddhist nun, but she is also a hospice chaplain in California.  Rather than disdain financial gains, she has her feet on the ground and realizes that the world will not take care of her – and it is her responsibility to take care of herself.  She admires what her brother does, and is willing to learn and take action.
The few minutes I spent with her were full of surprises.  She is not a vegetarian, she plays the Cash Flow game to win, and she carries the Bible at times.  She doesn't go around bowing and chanting – she shakes hands, does small chit chat, and participates in discussions as if in a PTA meeting.
Her talk during lunch was inspiring.  The key point for me was doing what you feel driven to do.  Fulfillment of life now – because we will all die one day, guaranteed.
She will be speaking at the Unity Church of Hawaii (3608 Diamond Head Circle in Honolulu) on Sunday November 13 from 6-8 pm on "What is Life Presenting You?"   Go, if you can.
One of my favorite quotes of the Dalai Lama's is:  "People take different roads seeking fulfillment and happiness.  Just because they're not on your road doesn't mean they've gotten lost."
Tenzin Kacho is full of grace and acceptance and I feel blessed to have crossed roads with her today.
*Update, Tenzin Kacho has left the nun hood – I suppose she will now go with her given name, Emi Kiyosaki.  Nun or not, Aunty really likes her.  With that, Aunty leaves you with one of her hoarded cards:
About The Author
Related posts