Lei time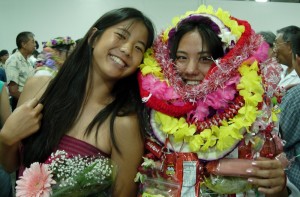 May 1st was May Day.  May Day is Lei Day in Hawaii…(there is a song to that)..  Graduations are happening all around the State of Hawaii.  What that means is a whole lot of lei making and giving.
Friend Tutu asked where I buy my flowers/leis.  I have 2 places that I frequent.
Le Flowers on 2567 King Street between Kuni Island Fabrics and Siam Imports has inexpensive leis such as the braided flat ginger lei that looks like a work of art and smells heavenly.  If I am going to the Mainland and taking leis, they give me their freshest ones and help pack them together so they keep better.  The staff is always nice and fast there.   They do not take phone orders but they always have a nice selection of leis as well as cut flowers.
Flowers by Jr Lou & T is close by – across the street on the next block at 2852 King Street.  Our good friend Tommy Holmes used to always go there for his flower leis for his dates.  That was over 20 years ago!  Nowadays, if I am looking for a special lei such as pikake or maile, I always go to see them first.  One year, when #3 child was graduating from a California college, Hawaii had rained for 40 + days straight.  As a result, NObody had any fragrant flower leis, and I was set on bringing up a nice pikake lei for her.  Calls everywhere said "sorry, no pikake", except for Jr Lou & T!
Occasionally  I cruise through downtown Honolulu to check out other lei vendors.  Somehow their quality is not up to par or price with my two favorite Moiliili florists.  I used to go to Sweetheart's Florist at 69 N. Beretania but I haven't gone there in years.  I remember them for having very nice leis that were simple and beautiful.
For price though, I can't beat the free ones that we get after we pick from our rainbow plumeria trees, stephanotis, or the pakalana from the vines.  Aunty will be posting a video on lei stringing soon.
Wishing all of you a very fragrant and wonderful May Day, a few weeks late.  Meanwhile, here's a shot of my pal Lani Chun's pakalana and puakenikeni leis – done in polymer clay!  Lani is a wonderful artist who sells out of her fabulous leis at many craft fairs.  Enjoy!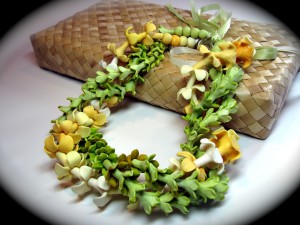 About The Author
Related posts