Lipstick, lipstick on the lips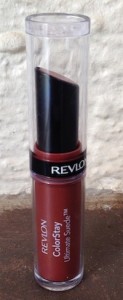 Korean dramas on DramaFever.com now have a LOT of commercials nowadays unless one subscribes to their Premium service for $9.95/month.  No thank you, since Aunty uses those commercial breaks to get water to drink or restack a pile of papers that needs attention.
Anywho, one of the commercials was about long lasting lipstick by Revlon.
Okay, guys, this really isn't a post for you.  However, it reminds me of an incident at my favorite Bank of Hawaii branch (favorite banker Iz) while making a deposit and talking to a female teller.  We were talking about men and how they still looked good if they gained weight, or when their hair becomes grey.  It is a bit unfair, we agreed.  "But," Aunty said, "they envy us our underwear."
That was like an AHAAA moment, don'tcha think?  So now this has become a 2 parter for the beauty tips.
The first tip is to go out and treat yourself to some nice undies.  Lacy, frilly, sexy, luxurious – and use it rather than put it in a drawer for "one of these days".  Nobody (or maybe not) will know how pretty you are under your clothes, but you will know, so enjoy!
The second tip is to go to Longs and look through the colors of Revlon's Color Stay Ultimate Suede lipstick and see.  Aunty bought #065 – Catwalk, a medium dark bright brownish burgundy color.  It was $9.99 and not on sale.  To Aunty, this was cheap because other long lasting lipsticks from Mac cost twice that amount and have 2 part applicators that are hard to control.  Those also tend to dry up the lips and cake or flake after awhile (yuck when it does).
Aunty used the Revlon Color Stay last night before going to play some friendly hands of Texas Hold 'em poker with friends, using a lip liner pencil to outline.  The color was less intense than what Aunty usually uses – but Aunty liked it!  Easy to apply, not drying, one step, just like regular lipstick.
Aunty ate a plateful of ono food provided by poker pals (mahalo poker pals!), played 2 games of poker (one humiliating, one victorious), and came home to bocha (bathe) and sleep.  The color was still on Aunty's lips!  That was a nice surprise!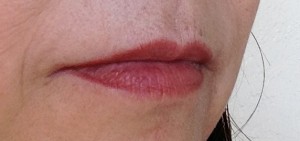 This next morning, Aunty's lips still had color, and lips felt nice – not all dried up the way those 2 applicator long lasting lipsticks feel after a few hours.  (see picture on left of Aunty's morning lips.)
Using makeup remover, Aunty removed all vestiges of the lipstick, just because.  I don't know if it is a lipstick to use every day, but for those special occasions when Aunty wants her lips to look nice with color, Revlon Color Stay will be Aunty's choice.
Apologies in advance to the male audience – this was girl talk.   Aunty feels rather smug now.  Aunty is also wondering, do guys envy our underwear AND our makeup?   Life is as fair and wonderful as we think it to be.
About The Author
Related posts