Mai's Beauty is Aunty's top stylist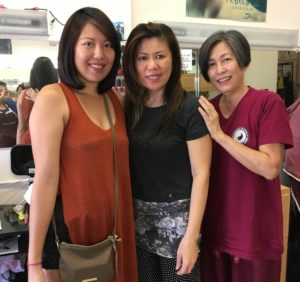 Our youngest daughter Rosie used to go to a hair stylist that she thought was the best, but we were never impressed.  One day she decided to cut her hair to shoulder length.  It was so bad, she went to her boyfriend's barber/stylist, Mai at Mai's Beauty & Barber to get it fixed.  For less than half the price, Mai styled her butchered bad cut into something really cute and flattering.  Each time she went to Mai, she looked better and better.
Our oldest daughter Malia wanted to see Mai, and so we both went to check her out.  Surprisingly, Mai is not busy, or we were very lucky.  We got back to back appointments the next day.  The shop is just off the busy corner of Kapahulu and Campbell Avenues in a rather dinky old building across the street from Zippy's.  Phone number 808-734-0344.
We were warmly greeted by Mai and Mary, and instantly, the rather bleak old place was pleasantly transformed into a nice neighborhood shop like a diamond in the rough.
For $35 (plus a nice tip), Malia's long scraggly hair was washed, cut, and styled into a sophisticated, easy care hairdo that she just loves.  She looks younger and her good features pop out.  Amazing what a good hair cut can do for a woman.
Mai made sure that she understood what I wanted (VERY important), gave a few suggestions, one of which was to cut bangs to look younger.  Aunty cannot handle bangs because they get in the way so Mai respected that preference and, after a nice shampoo, began to expertly cut and style Aunty's hair – to perfection, exactly just right.  What a joy, what a find!  An undiscovered treasure with reasonable prices and a bonus card to boot!  We get a free haircut, manicure, or eyebrow wax after 9 visits, woohoo!
One of the items on Aunty's want list at a nursing home would be to have someone wash her hair, so Aunty asked Mai if she would do shampoos on a weekly basis, without styling, and what the price would be.  "$10", she said, and so Aunty is now planning on treating herself to that luxury soon and often.  Mary could do the shampooing and when a trim is needed, Mai would be Aunty's stylist.
As we left, Mai gave us hugs and beneficial wishes.  Such a nice lady.  So glad that she was also one of the best hair stylists that Aunty has ever had, because we will definitely see her again and again.
(Update:  Mai will be selling the Cambodian Be Be Cream that Aunty uses to get rid of her age spots!  Call to order since she may be out of stock.)
About The Author
Related posts