May be Magic Socks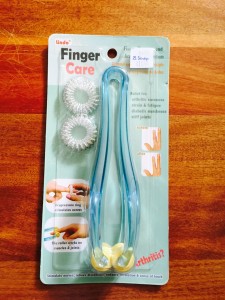 Aunty went to Shirokiyas to buy a finger massager to give to her favorite masseuse, Dick Murakami of Hikari Shiatsu.  These are available in a tucked away spot behind the massage chairs and next to eyewear.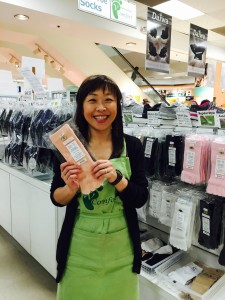 A really cute and friendly salesclerk cheerfully helped Aunty.  She looked like Ha Ji Won of Korean drama fame – starring in Secret Garden, The Time that I Loved You 7000 Days, and many others.  She shared a flyer about V Comfort (Five Comfort) socks that were good for the health, which got Aunty curious because Aunty used to get Nikken stretch fabric products that helped with joint and mobility issues.
These were funny looking socks that came in white, black, tan, and pink.   Each had 5 toes and were quite pricey at $38.  Still, Aunty was curious and Aya helped put the sample socks on Aunty's feet and remarked about how cold Aunty's feet and legs were.  Aunty has recently been diagnosed as having Hashimoto's Hypothyroidism, and cold hands and feet are symptoms of that disorder.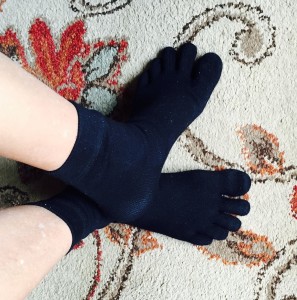 The socks fit like a glove – not too thick, not too loose, but with just the right tightness hugging each toe, sole, and heel.  They made Aunty's feet warm but not hot.  They really felt good on, as if therapeutic hands were holding onto each foot.  According to the flyer, these prevent foot problems, corrects body balance, and even activates the internal organs when walking.  Hmmm.  Aunty was game and purchased mid-length black ones.
Aunty put her socks on as soon as she got home.  It was a rather warm day but they felt good on as Aunty did her busy stuff around the house.  All of a sudden, it felt like nap time, so Aunty lay down and then passed out for about an hour – a blissful hour of deep sleep that was just wonderful.  Aunty hadn't slept like that for a long time.  Hmmm.  These just might be magic socks and so they stayed on Aunty's feet for the rest of the day.
After bathing, Aunty put her new socks back on and went to bed.  This is unusual because Aunty never wears socks to bed and always has feet sticking out of the covers or else they get too hot and stuffy, but these socks felt just right, all through the night.  They were clean because Aunty also started wearing house slippers – something that takes getting used to, and very Japanese, neh?
It was a good night's sleep.  Hmmm.  Aunty's usually cold toes and feet were just right warm in the morning.  Aunty went back to see Aya and get a second pair for bedtime use, though Aya said that these are usually worn during the day while walking around, exercising, etc.  Aunty also bought a pair for youngest daughter Rosie because she was having coldness issues – feeling cold and needing to wear sweaters while everyone else felt hot.
Rosie liked them and said that they work!  Aya had also mentioned how we should keep our feet and the back of our necks protected and warm because this helps our internal organs to stay warm and in good working condition so that our immune systems are at peak performance.  Sounds good to Aunty and for Rosie!
Update
Aunty usually likes to try something out for a while before reviewing and posting about it but a one-time special event is happening at that little magic socks booth tucked away behind the massage chair area of Shirokiya, Ewa of the escalators downstairs.  On Aunty's 3rd visit to see Aya and purchase more socks for friends with gut problems as well as the $49 super comfortable super soft house slippers with fantastic arch support (Oofos) that look rather ugly, Aunty was informed about an exciting visit from the founder (?) of the company on Wednesday, February 17, 2016 from 10:00 am – 3:00 pm.
She gave Aunty the section of the Nikkan San Japanese Daily Sun newspaper that was ALL in Japanese with an advertisement about the visit and the products.  This was like reading Greek, so solly, wakarimasen (don't understand).  Anywho, this visiting founder (?) invented (?) these Five Comfort products and can advise on what our bodies need just by touching us and being able to pinpoint where our issues lie.  He or she (solly, Aunty and her wakarimasen nihongo abilities) probably only speaks nihongo (Japanese) but all the salesclerks are bi-lingual and can translate.
It has been a little over a week since Aunty started using these socks and just yesterday, noticed how much better her balance is.  Pretty cool.  Aunty normally bends down while scrubbing the bottoms of her feet in the shower so she doesn't fall over, but is now able to stand on one leg and bend the other leg up to scrub each foot, like a Kung Fu master, heee yahhh!  Is it the socks or is it mind over matter?  Nevah mind, whatevah it is, feels pretty nifty and swell – like Aunty's balance got 10+ years younger.
Aunty also LOVES her hot pink ugly Oofos house slippers because it feels like walking on air.
Do you believe in magic?
Okay, maybe not magic but at Aunty's age, preventative measures are important, and natural remedies tend to have beneficial side effects of better health.
If you are interested in meeting a magic socks master from Japan, please visit at the Ala Moana Shirokiya's sock booth this Wednesday.  Aunty will be there hoping to be diagnosed, looking confused when Japanese is spoken, but will lean on Aya for translated guidance.
Contact phone numbers are (808) 973-9191 or (808) 542-9317.
About The Author
Related posts