McKinley Car Wash Review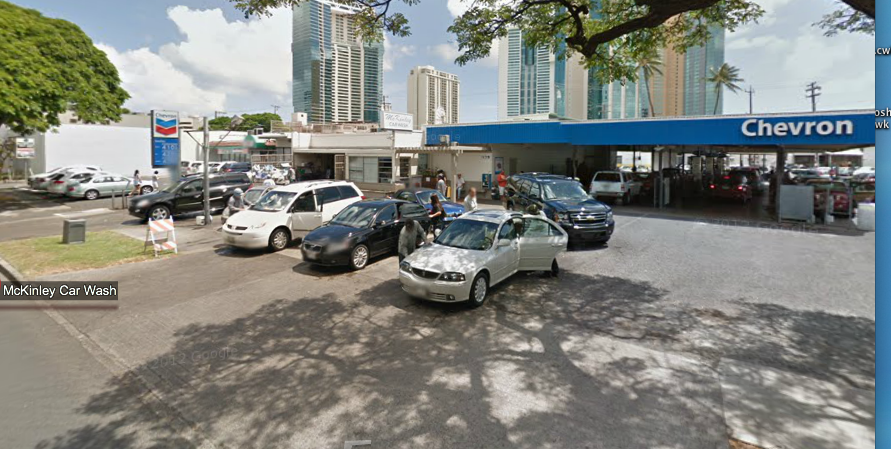 Uncle washes Aunty's car every once in a while.  Sometimes because he is in the mood to wash cars, and sometimes because he is trying to make nice to Aunty.
Most of the time it is very much appreciated, but once in a while, when my gas tank is low and the car (the one Aunty got the Rich Dad way) is dirty with sand on the floor and the dashboard is dusty, Aunty plans a trip to McKinley Car Wash for a fill up and car wash, at 1139 Kapiolani Boulevard.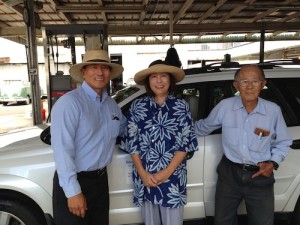 The Yoshikawa family have owned and operated this service since 1946 – that's a LONG time!  Aunty was thrilled to have her picture taken with owner Yukio Yoshikawa and his son Max recently.
Aunty is really impressed with this business and the people in this business.
Matthew Kelepolo used to be my go-to man and I would make sure that I was in his lane to fill up because he always had a good story to tell – his life story.  Born and raised on the Big Island, he was one of over a dozen children.  Married to the same women and having a number of kids himself, he looked like he could slice, dice, and dismember enemies without effort.  His neck sported tattoos that added to his formidable look, but as soon as he opened his mouth and started talking in his slightly high, very raspy voice, he was a sweetheart.  No shoyu, no salt, no alcohol, no drugs, gives thanks to God, and on and on he would recite his history as he deftly filled up gas, checked the engine fluid levels, brushed tires and rims and scribbled the service code on windshields with a flourish.
On the rare occasions that I didn't see Matthew working, I would go to the line that his kid brother Willie was in charge of.  Where's Matthew? would be answered politely with an aside about Matthew always talking to the ladies.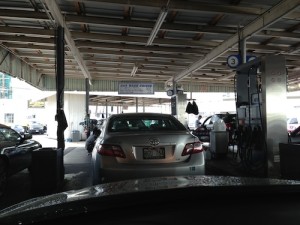 Long lines
The only time I didn't have to wait for gas and a wash when when it was drizzling.  The wait is almost always  long because McKinley Car Wash is so popular.  The reason that they are so popular is because of their great service, and the quality of the car wash process.
After your car is filled with gas and marked, drive forward to the vacuum garage.  You will be given a little yellow slip of paper.
Two guys with huge vacuum hoses attack the dirt, sand, and whatever else lingers on the vehicle's upholstery, rug, car mats as you pull up into that section and wait outside of your car until they are done.   What a difference clean spanked car mats make!
Get back in your car and wait some more to take your turn to swing into the mechanical car wash structure.  Get out of your car when you are almost at the tracks with car gear in park so that someone else can maneuver your car into perfect alignment with the car wash tracks as it enters into the soapy water spray and wash.
Orchids, orchids, beautiful orchids
After exiting your car, a pathway leads you to an entry door to the store and cashier.  Immediately you notice and smell beautiful potted orchids lined up parallel to a huge glass window through which you can view your car getting washed by jets of water, air, and soap.
Such beautiful orchids!  Each time different ones, all grown and nurtured by Mr. Yoshikawa himself!
Before reaching the cashier's counter, the pleasant air conditioned mini store is stocked full of snacks, greeting cards, car accessories and drinks.  Hand your yellow paper slip to the cashier and then pay for your gas and carwash service, then out the door to watch as the cars come out of the automated wash.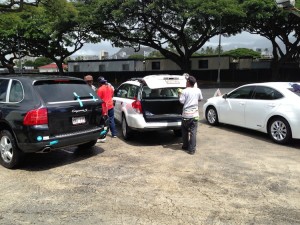 First class service
As soon as your sparkling wet car is pulled into an open spot (sometimes it is amazing how many cars they fit), at least 5 men start attacking your car with towels by wiping, cleaning, inside and out, getting everywhere that they can get to.  Towards the end of the wiping that lasts longer than the car wash itself, a single man continues to wipe, to catch any remaining drops and wipe detailing your dash board, console, interior panels.
These men are formidable looking – not the kind of people you want to meet in a dark or lighted alley.  Tattoos, scars, and the hard life are evident on their faces and bodies.  Despite how they look, they take their job and your vehicle seriously and do a spotless wonderful job of making sure your car is as close to brand new as it can be.  With a whistle and a wave of the towel, they let you know that your car is clean and ready for you to drive off.
Aunty usually puts a tip in the tip box just outside of the store door since those tips are evenly distributed to all the hard workers at the end of the day.
Surprise bonus
A bonus that is not advertised is a free car wash after 10.  For this, you do not need a card that is punched or keeping track of it to remind them.  They automatically track it in their system based on your license plate.  If you get a new car, let the cashier know your old license plate number and they will update your records so you can accrue points without a break.
More than just a car wash
A car wash with 8 gallons costs less than just a car wash – $9.25 vs $11.25.  Liquid polish wash through the automation is available, as well as hand wax for more.  Conditioning and detailing are also available if wanted – ask when you pull in.  They even do safety checks – though most people just want a sparkling clean car.
Open every day
McKinley Car Wash is open every day, rain or shine.
For Aunty it gets a bit tricky since the combination of having a dirty car and needing to fill up the gas tank along with having available time to wait in line is rare.  Because of that, drizzly days work out best – no line, zip in, zip out, with a clean car and a full tank of gas.
To their credit
The Yoshikawas really deserve a lot of respect and credit for delivering this kind of top notch service, and instilling the quality of achievement and pride to their employees.  Sometimes, they themselves are in the front line putting in gas, checking fluid levels in engines, and swabbing tires!
A few years ago, another car wash/service company opened up on Kapiolani Boulevard, RIGHT next to them.  Business may have dropped for a little while, but since then, cars line up for however long they have to wait instead of going to the neighboring competition.  The reason is – top quality at a fair price.
Because of that,  Aunty is a fan forever.
About The Author
Related posts