Mrs Tanaka's Tuna and Potato Stir Fry
Mrs. Tanaka used to make the best after sc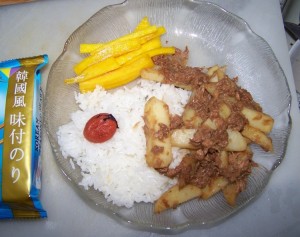 hool snack for her granddaughter, and my daughters would come home raving about the tuna and potato dish.  I have recreated it here:
Skin and cut raw potatoes into little logs.  Soak in slightly salted water, drain well, pat dry.
Open a can or 2 of tuna – I like the Coral brand in oil – but any brand will do.
Put a tablespoon of vegetable oil (or use the oil from the can of tuna) in a pan and stir fry the potato logs until almost cooked.  At this point you can add ginger, garlic, or whatever you want.  I usually keep it simple and don't add anything.
Drain and add the tuna meat from the can.  Add mirin or brown sugar (about 1 TBS or more) and soy sauce (about 2 TBS or more).  Optional:  add a tsp of hon dashi or saimin base powdered seasoning.
Using a wooden spatula, mix from the bottom gently, let simmer for a few minutes.
Serve with hot rice and enjoy!
About The Author
Related posts