Near miss = lesson learned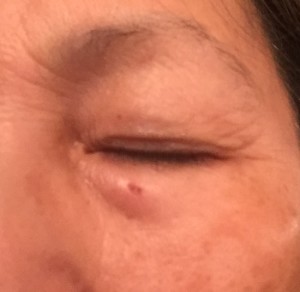 This is not a picture to show Aunty's lack of eyelashes, sparse eyebrow hairs, wrinkles, bags under eyes, or melasma splotches on face.
It is to show that little brown dot just above and the bigger dot just below Aunty's eye as a warning to all of us to be careful.
Aunty wanted to cut down a piece of a laminate plank to be a barrier in the vegetable garden.  Instead of using a circular saw, Aunty used her Dremel with a thin rigid sandpaper looking cutting disc mounted on a mandrel.  The laminate plank was hard and difficult to cut and as the Dremel spun furiously to the point of smoking, Aunty felt a sharp shard fly toward her eye.  It was either her lightning quick reflexes or the hand of angels (I'd bet on angels) that resulted in Aunty's squinting shut her eye just in time, or else the shard would have burned into her eye ball rather than landing on her eye bag.  It was painfully sharp and embedded in the skin, and it took a little while before Aunty could pluck it out because it was burning hot.
It looks so little (actually it is about 2 days old and the scab just peeled off) but Aunty felt very lucky.  Imagine if it had lodged IN her eye!?!
So, lesson learned – wear safety goggles or glasses when cutting, drilling, or hammering.  And thank your angels every day and night, for the near misses we realize, and for those that we didn't even know that we missed.
About The Author
Related posts