Nerium – a business review
[Update note December 2013:  Here is an email sent to all Nerium distributors by the CEO Jeff Olson.:  "In the last couple of days there seems to be increased competition between our company and another significant and respected company in our industry. It is not our style or culture to target another company in any way.
There are two ways to have the tallest building, either by building yours the tallest or by tearing others down. Let's be known for always building the tallest building, and never at the expense of others. There is enough success available for every company to prosper!"
In other words, Jeff is saying, rather than we talk stink and bash, Nerium will continue to strive to be the best.  For that, Aunty has even more respect for this company.]
Nerium InternationalNerium International is a  new company in the multi-level marketing business industry.  Launched nationally in August of 2011 with one product – NeriumAD – an anti-aging night cream that is taking off like a rocket.  Aunty usually starts off a review like this with the product, and then the company, but this time, Aunty will begin with the business side.  This is another honest review, but it is definitely not unbiased, because Nerium is what rocks Aunty's world today.
I have tried network marketing before without much success.  Most of the time I lost more money than made any because of the requirements to maintain a constant inventory, mandatory training expenses, and products that were okay in quality but hard to sell.  I would join with high hopes, and then almost instantly regret the decision because the passion and fire in the belly just wasn't there.
Fire in the gut
This time, for the first time, it is different.  This is network marketing at its finest  in a ground breaking stage of explosive growth.  The explosive growth reminds me of pogs (milk caps) in Hawaii back in 1991, starting off as a children's game at Waialua School and then quickly becoming a hot fad.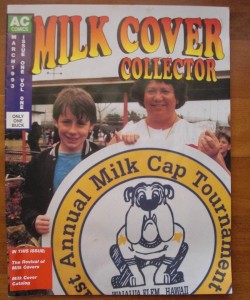 Number one son started collecting them and so Aunty started buying and selling tubes of the stuff, doing shows, and even wrote articles for the "Milk Cover Collector" as Sally.  Business was booming until a family tragedy in 1993 took the air and heart out of Sally, and I left the business, which was a good thing since pog fever soon after subsided and then died.
Nerium International has the explosion of pogs but is an evergreen product, which means the product is going to be around for a long time and thus the business income will be around for a long time.
Nerium International has leadership that I am willing to follow because of their basic philosophies of doing what is right to help others.
Cost of doing business
For $99.95, one can become a brand partner.  In order to be considered an active brand partner, it would require 1 bottle with the initial order and 1 bottle on subsequent months auto ship (this equates to a little over $200 upon sign up and ~$95/month for autoship).  The recommended starter kit is the $1000 success pack which includes 12 bottles, which act as your trial bottles.  A $500 starter kit with 5 bottles is another option.  Auto ship cost for 1 bottle per month will be around $95, depending on your state tax rates.  [update:  the Day Cream is now available and starter kits will have bottles of Day Cream in addition to the Nerium Night treatment bottles.]
Why are 12 bottles the recommended starter pack?  Because the success of your business is not based on how well you sell, but how well you share.  This IS a business, and if you really think about it, $1000 is a very low cost to begin a business with 11 bottles of inventory to share.
That is basically it for your upfront and monthly cost to start a business with Nerium International.  Members can get free bottles via the 3URFree and brand partners  get free bottles with the Nerium Gives Back program when they opt in to that option (highly recommended).  If a distributor does have 3 customers on continuous autoship, their monthly cost is $9.95 which covers the shipping charge for their free bottle every month.  (see the CEO explain it – he does a better job than me in a video about the free bottles)
Why of doing business
Aunty and Uncle's choice of investment is real estate for cash flow (rental income).  The problem is that we don't have enough capital to keep buying, so we get stuck for a bit until we build up enough cash (from cash flow) to buy more.  Everyone has a different "why", and although ours is not as heart wrenching as others, it is still a strong enough motivator for us because of the potential for growth not just for us, but for anyone who applies simple daily activities – such as sharing.
Enclosed with the brand partner materials is an audio lesson on "The Business of the 21st Century" by Robert Kiyosaki, Aunty's favorite financial mentor (see post Robert?  It's Aunty Kiyosaki).  The old rules used to be: go to school, get a good job, buy a house, retire comfortably thanks to the company and government's retirement benefits.  However, in this day and age of job uncertainty, housing collapse and government (in)feasibility, the old rules do not work anymore.  We must all be in control of our own destiny and not be dependent on our employers or government to support us.  Robert Kiyosaki believes network marketing is a business that can generate cash flow continuously and constantly whether you show up for work, or not.
Other reasons for starting a business in network marketing are numerous.  [note to Aunty – write a page on network marketing for cash flow]  Reasons for starting a network marketing business with Nerium International are even more numerous, as well as compelling, exciting and truly life changing.  [See Jeff Olson on stage at the first annual Nerium Conference in July 2012]
The business of Nerium
Where to start, oboy, this could take pages…..  Aunty will do bullet points:
Nerium International is very very "young".  (update: NeriumAD made 1 year old on August 29, 2012!)   I compare this to getting onboard with Amway in its very first years of existance.  It is being in the right space – which is a golden opportunity.
A unique and effective product that is not duplicate-able for at least 10 years because of the closely held processing system and the 10 year old cultivated fields of Nerium Oleandar.
Jeff Olson is the CEO, formerly of Pre-Paid Legal, this is his last hurrah in the multi-level marketing (MLM) industry and he wants this to be his best.  TheLastRunClub.com is his video on the product and the company.  This man is a visionary with integrity.  His experience and expertise with MLMs and his passion for taking this company and all of us brand partners to fantastic levels is magical.
NeriumAD is a game-changing product in the beauty industry.  Beauty products sell, more than any other type of merchandise.  Aunty can attest to this since even Uncle bought $400 worth of skin care from a kiosk in Vegas once they started putting stuff on his face.  Aunty also sells Protandim, a scientifically proven supplement not in the beauty industry that is awesome for the health but is a really hard thing to sell because you can't visibly see the results.
NeriumAD sells itself.  It is also easy – put on, rinse off.  Results are either felt immediately or seen visibly after continuous use.  Before/after pictures taken by regular people are real proof of real results and available to view on websites of brand partners.  Aunty prints them out and most peoples' reaction is "Wow!"  NeriumAD works wonders for many people.
The marketing materials are really great.  Aunty has gone to a lot of seminars and listened or viewed a lot of trainings, and the materials available to brand partners are some of the best.  Robert Kiyosaki's "Business of the 21st Century" and Jim Rohn's "Building Your Network Marketing Business" were 2 of the best CDs I ever listened to (in the car), as well as the "Success Training" CD set by Jeff Olson – the message that penetrates seems to amazingly change each time I listen to them.  The marketing materials the company provides are great tools for prospecting as well as sharing.  Almost anything you need is available and provided to us.
Phone support with a team in Addison Texas (origination city) is excellent – if they don't know the answers, they are just a desk away from getting them.  They are not allowed to be brand partners, I suppose because it would be a conflict of interest, and they are up to date with the latest news.  Most of the questions that I have though, can actually be found by reviewing the info on my Nerium website.
The most generous compensation plan that only gets better.  50% of all product sales goes to brand partners.  30% of all product sales goes back to research and development!  Bonus promotions are promoted as such (for limited time so no surprises when it ends).  Standard commission and pay levels are on multi levels – a bit much to grasp at first but the more Aunty learns about the payment structure, the more Aunty loves it!
The culture of the company is that of giving.  We are given free bottles when anyone signs up under us.  We are given the opportunity to be givers.  This is the only company that doesn't want you to order any more product for yourself.  It's crazy, but it works.  Jeff Olson (CEO) said they are willing to take a smaller and smaller piece of the pie in order to make a bigger pie.
A true team building culture and structure.  One of the criticisms of network marketing (also called MLMs) is that it is a pyramid scheme and only the ones on the top get rich. With Nerium International, that is bull haha. Aunty believes in team building and, by helping team members below me, and also multi levels below them, Aunty gets boosted higher.  The higher I boost others, the higher they boost me.  Anyone of them can surpass Aunty, and that would make Aunty happy – for their success is Aunty's success.  We are given powerful tools and strategies to build, expand, and help.  Maybe this is in the honeymoon phase, but other team leaders and teams on different legs are helping no matter if it benefits them or not, and it will be in the honeymoon phase for a long, long time.  A powerful option that we are given is a 60 day window of opportunity to place a team member anywhere on our team structure in order to help them advance.
Everyone gets their own marketing website – even customers on autoship.  On these websites, other customers and/or brand partners can sign up to purchase or join, and all product are shipped directly to them, eliminating any need for us to hold inventory in order to deliver orders.  This also makes it easy for customers to get their free bottle with the 3URFree promotion automatically and without having to go through a company representative.  Aunty's company website is Aunty.Nerium.com – pretty cool!
The company was carefully developed for over a year before it went to market.  All aspects of the company are well thought out and implemented with class.  The company logo, impact (Aunty thinks the girl on the website is absolutely drop dead gorgeous), compensation plan, presentations, level of quality, customer service, money back guarantee, etc. are of the first order.
I can name only 2 things that I didn't like at the very beginning.  One was that brand partners would be charged $14.95/mo for their website after the initial trial period.  I thought that was too high for brand partners that didn't really advance, or weren't serious.  They have now done away with that option.  Now the default is $29.95/mo for a more robust website with access to all current and upcoming marketing materials and tools called "The Nerium Edge".  (Aunty suggests that you delete this default option unless you actually use these great tools.) The other beef Aunty had was the layout of the team members – more in a listing style rather than a graphic tree format.  (LifeVantage has a great job of displaying our team's geneology like a family tree.)  To their credit, Nerium is taking a look at improving the viewing style.  I like the fact that this company actually listens to their soldiers in the trenches.  [update:  Nerium now has a graphic tree in a beta testing status – almost like they listened to Aunty….nyuk, nyuk nyuk!]
iPad bonus, Lexus bonus, Summer Dash bonus.  These are like dangling a carrot in front of a race horse.  If, in a certain period of time (60 days for iPad, summer 2012 for Summer Dash) certain rank advancements are met, juicy bonuses are rewarded.  For people like Aunty, these are good and real merchandise and or cash bonuses over and above the earned commissions.  I love this. (Compare this to another company who is had an iPad bonus lasting for a month, and cash bonuses that can only be applied toward a company national event.)
Dynamite weekly events to send prospective customers/brand partners to.  In Hawaii, Nerium has taken off and we are #2 in volume, just behind Southern California.  Every Tuesday evening at the Ala Moana Hotel, our top National Directors have a "Marketplace Event" in which the product is reviewed for new prospects, and the business opportunity is presented.  Aunty's favorite part is when they call up all the Lexus qualified or higher ranked brand partners, and each is given a few seconds to say who they are, where they are or what they are doing.  This is the event that clinched the deal for Aunty back in June.  Ordinary people who never thought they could achieve the kind of income and advancement which Nerium provides.  Bald men who had nothing to do with skin care, stay at home moms who just wanted some extra gas money, business owners looking for additional income.  And now, Aunty qualifies to be acknowledged as a Lexus qualifying brand partner and can now go up when they call for us.  Booyah!
Why Nerium?  This company is really unique.  The people at the top, on the side, and coming in are different from other MLM companies.  The company keeps giving us new and better tools to use, more and better trainings as time goes by, and encourages us to cross team boundaries to help and be helped.  This company embraces and lives the philosophy of ohana (family).  It is not about me, me, me, but about Nerium and all of us in it together.
The start to an end
Uncle goes around quoting Jim Rohn from the "Building Your Network Marketing Business" CD by saying that he is working part time on his fortune in order to retire from working full time in his job.  He talks about "birds getting 'em" and we have a little laugh about that.  Jim Rohn's CD is entertainment and a wealth of inspiration (let Aunty know if you want to hear it).
The commission and bonus income that Aunty has made in the first month equals the net rental income from 3 Vegas condos.  Aunty's initial investment was $1055.35 + $94 auto ship for the following month.  To purchase 3 Vegas condos to generate that kind of cash flow would have an initial investment of around $90,000.  That means Aunty's ROI (return on investment) is 100% in just the first month alone!
This is a company that is brand new and different from any other company because of its level of excellence across the board.  This is a company that nurtures and supports teams of individuals.  No Wall Street board of directors, and very little ego at the top.
Nerium International is so new, so authentic, so good to its partners, Aunty wants to shout out about it to anyone and everyone to come join and get aboard this vehicle to financial independence.  This is a viable means to building your Wealth Chest.
Aunty is always thankful to her team members for building their teams and helping Aunty prosper and advance.  One of Aunty's goals is to have each and everyone of them reach a point where they are financially independent and driving around their own Lexus and being presented with oversized bonus checks.
It is so possible for Aunty, and it is so possible for anyone else.
Here's an additional bonus that is like rose bud icing on the cake and answers 2 related questions:  How can I write off a trip to Hawaii and/or How can I write off a trip to Las Vegas?  Because Aunty lives in Hawaii and asks all team members to attend weekly, regional, and all other meetings for Nerium, if you are living on the Mainland and become a brand partner under Aunty.Nerium.com, you are part of Aunty's team and coming to Aunty's Nerium meetings are a business expense for your Nerium business with airfare expenses being a write-off-able expense.
If you are living in Honolulu, and you sign up under one of Aunty's Las Vegas team members, your airfare and part of your trip to Las Vegas is a write-off-able expense on your tax return when you attend a Nerium training or business event in Las Vegas that your Vegas upline recommends.  The requirement is that at least 4 hours in the day is spent on your business during your trip.
Aunty loves the product, Aunty loves the company.
About The Author
Related posts