Number 1 on Cell Phones
I learned a cool trick to check my voice messages – but maybe most of you know it already.
At a recent workshop, I received a rather urgent call from a hospital requiring me to call them back as soon as possible.  Because my cell phone was turned off, the call went to my voice messages.
At lunch break, I turned my phone on and had several non-urgent messages  which I listened to and then deleted.  One message was urgent, and requested a call back to a hospital at a certain number and extension before 2:00 pm.  I was not prepared for that and thus did not have pen and paper handy to jot down the number.  I saved it in the archives and thought I could easily retrieve the message.
Grabbing a pen and paper, I tried to replay the message, but my phone did not cooperate –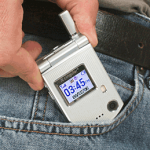 I have a simple little old Pantech phone that is not smart, just simple (but really cute).  No one in the room knew how to access phone messages except for calling in and entering a pin number – which I did not know, and I also did not know the number to call.
Adding to the panic was the very low battery signal – single bar, flashing red.
Well, Aunty left the workshop early to see if a message was left at home.  Message left, but no phone number.  It was a blocked call i.d. number and then finally Aunty found an easy way (using Google search) to access voice messages on the cell phone.
Press and hold the number "1" for a few seconds.  Voila!  Voice messages are accessed.
How simple was that?!  So simple, Aunty will be able to remember how.
About The Author
Related posts