Ozoni recipe – first food in the New Year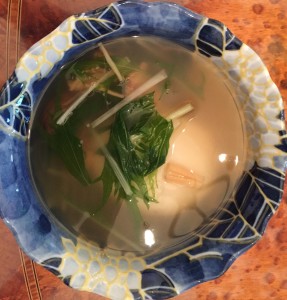 Aunty does not do traditions very well, but one that is done because it is a favorite is Ozoni – soup with mizuna and mochi.  Aunty likes the simple simple kind of ozoni that her mother used to make for the family.  Other families have awesome ozoni made with fishcake, daikon, gobo, carrots, and a lot more.  For Aunty, simple is better for Aunty to remember.
However, since it is made only at New Year's, 364 days go by and Aunty forgets what to do.  This post is one for Aunty to refer to, gomennasai (solly).
Ingredients are:
mochi
mizuna
dried shrimp or scallops
chicken broth
shiitake mushrooms
hondashi
Soak the dried shiitake mushrooms in water until soft.  Then cut in half.  Cut mizuna bunches into 2 inch lengths.
Meanwhile, boil 2 cups of water with dried scallops or shrimp.  Add mushrooms, chicken broth and simmer.  Add hondashi to taste (you could substitute with instant ramen seasoning).  Add cut mizuna.
If you have fresh mochi, add to bowl and pour soup over.  If mochi is hard or frozen, boil in a separate small pot to soften.  Cooking the mochi in the pot will make the broth cloudy.
Please eat hardy and have good thoughts of the wonderful new year ahead of us all!
About The Author
Related posts