Please visit Honolulu Aunty at the Collectible Show!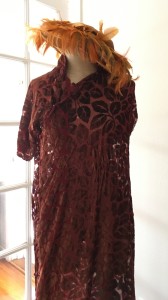 It's that time of year, and Aunty will have a booth again at the 26th annual Hawaii All-Collectors Show this coming Sunday, July 17, from 10:30 – 5:30.
Last year, KITV interviewed Aunty in her booth.  It was probably because of the hat and outfit – very vintage, very old school, very fun.
Aunty has to figure out how to fix this old cut silk velvet cheongsam (holes and tears) and glue some orange chicken feathers back onto this old hat (from Bailey's Antiques in Kapahulu), because Aunty will be wearing this for the Show.
The fine folks at the show have a preview page at ukulele.com as well as a downloadable coupon for $1 off the $5 admission pm their show page.  It's a great place to browse and shop, learn some history, and talk story.
Please visit Aunty in booth 219/142 and say "Aloha, howzit, whatevah!"
About The Author
Related posts