How to remove sticky residue labels from jars
Aunty loves to collect empty glass bottles and keep their lids. However, most labels that come with those bottles are too branded so Aunty likes to remove their identity by removing labels.
Goop Off or lighter fluid was the solution of choice. However, the toxic fumes and the danger of ignition bothered Aunty's sense of environmental goodness. Searching on wonderful Google, Aunty found Cheryl at ThatsWhatCheSaid, and her super simple, cheapo and effective way to remove the sticky residue that some labels leave after the paper or plastic is peeled off.
Super simple: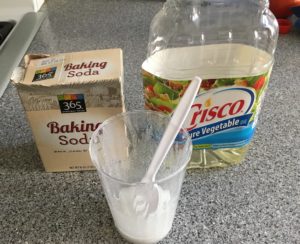 Equal parts of baking soda and vegetable oil. Mix to a paste, apply to the bottle, wait a few minutes, then scrape and wipe off.
It works wonderfully well!
Aunty uses a short plastic fork in a disposable cup to mix, then uses the same fork to apply and also to scrape after sitting time. A paper towel then wipes up the gunk. Sometimes a 2nd application may be needed. Then, wash the bottle and Voila! A naked wonderful bottle.
It doesn't seem to work with the non sticky type of glue. But that's okay. Aunty will use the toxic stuff for that – later.
Thank you Cheryl, for your great tip!
About The Author
Related posts