Review of Yakitori Glad $3.90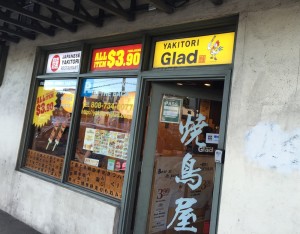 Good friends Sharon and Rayna told us about Yakitori Glad, located left next to Pizza Hut on Kapahulu Avenue.  EVERYTHING on the menu, including beer in small, medium, or large sizes is $3.90.
Ample parking was found in the small downsloping driveway lot behind on Palani Avenue with a small sign that said parking was free for Yakitori Glad if you let them know your parking stall number.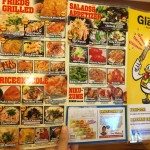 We were there early, before 6:00, and were asked if we had reservations (no), our parking stall # (3), and then seated against a counter that had no view, but it was okay since we were there to eat, and not for a view.  Our server was a nice young man who brought us water and green tea.
Their large glossy 3 section menu card is quite extensive and overwhelming at first.  Shio, Tare, Mene. whatever.  We ordered, almost blindly.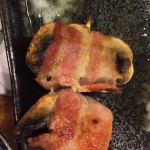 Bacon wrapped mushroom sounded delicious – and it was!  2 mushrooms with bacon on a stick, and we got 2 juicy yummy sticks.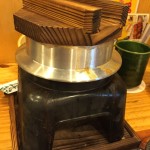 Aunty ordered kamameshi rice which had gobo (Aunty loves kamameshi rice) and was told that it would take 30 minutes to make.  Hmmm.  Gotta have it, and it actually came sooner, or it seemed like came sooner, in a neat little metal bowl on a stand with a wooden cover – so cute!  We were already rather full so took most of it home (and it was just as delicious the next day after a zapping in the microwave oven).
We ordered a couple of orders of yakitori (chicken chunks on sticks) – one was Mune Glad-yaki, and another that was recommended by the server, but we were not impressed with either because the chicken was quite dry and rather tasteless, imo.  It did not taste fresh and was probably pre-cooked.  We were there very early, way before the crowd, so perhaps fresher sticks would have been served later, as the place got more packed and busy by the time we left.
The enoki mushrooms (we love mushrooms) came in a foil boat with ponzu sauce and was delicious though a little sparse.
We tried the tsukune okonomiyaki in shio flavor – that was tasty and more like a ground chicken patty with sauce, at the recommendation of the server when I commented that the chicken was a bit too dry for my taste.  These were pretty good so next time we will order the chicken patties instead of the chicken yakitoris.
The Gyu-kushi wasabi yuzu beef sticks that we ordered sounded and looked delicious, and they were – but again, very dry.  Aunty was hoping for something like gyutaku with ponzu sauce but this was not it.  Maybe next time we'll order pork instead.
Aunty's favorite was the ume ochazuke – nice deep bowl of rice with 3 soft big ume swimming in green tea.  Yum!  It was the best simple and most satisfying ochazuke, so it really made Aunty's meal.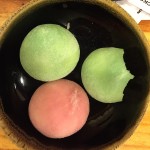 Lastly, we ordered their mochi ice cream, 2 green tea and 1 cherry blossom (tasted like cherry ice cream).  Meh.  It was okay but nothing to write home about.
Would Aunty go back to this place again?  Yes, definitely – but with a better idea of what to order.
Here's what Aunty would order the next time.  Kamameshi rice (with the plan to take home most of it), ume ochazuke, bacon wrapped mushroom, shiitake nikuzume (mushroom with chicken patty), renkon nikuzume (lotus root stuffed with ground chicken).  Maybe the buta-bara (pork), or chicken skin (kawa-shio), or a salad, or …  Actually, going back is a must because there are a lot of things that we didn't try that might be super delicious.
$3.90 sounds like a great price for entrees, but it can add up.  It would help to try blindly first (like we did) and then figure out slowly what you really like.  It was a small busy fun place with very nice servers, and good simple food that makes for a happy stomach.
If you do go, please let Aunty know what your favorite dish is, onegai shimasu (please)!
About The Author
Related posts