Style Book app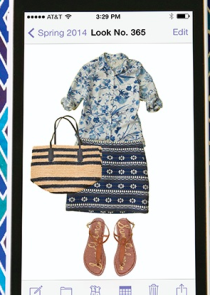 2 weeks ago, at Michael Mazzella's free Jam session on real estate flipping in Hawaii, Aunty saw Margaret, a fellow real estate investor friend.  We did a bit of girl talk chat after the session and Aunty mentioned Marie Kondo's book, "The Life Changing Magic of Tidying" and how it was truly changing Aunty's life.  (Post to come, one day soon.)
Well, Margaret went home, downloaded the book and took to it like a kid in a candy store.  She emailed her excitement about it, suggested that we do lunch, and we arranged the meet up.
We had a mid morning breakfast today and played catch up on people that we knew, classes that we had taken, and what we had been and were now currently doing in our lives.
Margaret is a fashionista.  I can just imagine how many closets of clothing, shoes, bags, and accessories she has – all in festive happy colors and textures.  She said that we were destined to meet at Michael's session because of Marie Kondo's book.  She wanted to share an app with Aunty – Stylebook by left brain/right brain LLC.  It is not a free app (Aunty's favorite kind) but it is actually worth every penny and more of its $3.99 price tag.
Margaret showed me her wardrobe, categorized by types such as tops, bottoms, scarves, bags, shoes, etc.  Categories of categories can also be determined.  This will allow you to see your entire closet on your iPad or iPhone!  She would then "make" outfits by starting off with a focal point such as a crinkly blouse, then adding different elements such as a pair of striped leggings, see through long vest, boots, and a sassy scarf.  Each outfit can be named and saved, as well as be changed out with a touch and swipe of the finger and then saved as.
This is a great app for travel packing.  Aunty tends to pack heavy and doesn't even use half of the clothing taken on trips.  With this app, each day's outfit can be determined and pieces picked out from anywhere and anytime in advance. Day to day, from head to toe, then sorted into a list so it becomes an easy task to put only those items into the suitcase and feel confident that there is just the right amount of clothing for the trip.
The most time consuming part is taking photos (with the iPhone or iPad) of each piece of clothing.  Each item is laid out flat on a solid colored sheet or background, then edited with a few tools so only the item is displayed, like a cut out.  In fact, it reminds Aunty of paper dolls (remember those?) with each outfit cut out carefully and then attached to the doll's silhouette.
This app will be even more fantastic AFTER doing the tidying exercises in Marie Kondo's book.  Whittle down all the items in your closet and drawers to only what you want to keep, then take pictures of them.  Or, do your tidying choices DURING the photo taking for the app!  As you put together your outfits, it may become clearer as to what is missing, and that can lead to a justifiable trip to your favorite clothing store!  (You can also take photos of clothing items at stores and see how they will work out with your existing closet before committing to buying something that you may or may not need.)
The Stylebook website is very helpful, with photo tips, notes, sharing, even online shopping (that could be dangerous).
Aunty can tell – that this is the start of a beautiful concurrence of a tidying theory and an organizational practice.  Aunty can't wait to play paper dolls again, with real clothes from her soon-to-be tidy closet!
About The Author
Related posts