Summer sun great for laundry tip
Since it has been so terribly hot and sunny recently, Aunty has been laying out linens, hankies, furoshikis (squares that are used to tie up parcels and gifts), unlined tote bags, and whatever other natural fiber item that are stained or discolored on the front lawn and having the intense sun bleach the stains away. It works like magic.
Mrs. Orpha Herrick was a favorite college professor. Not only did she teach a great course, she also was a class act in every way. I learned her trick and have used it often with great success.
To remove the yellow spots and discolorations from linens and cottons (natural fibers), spread the item on the grass in the sun, and water the fabric evenly. As the sun starts to dry the items, wet again.
Do this several times during the day until the stains disappear, and your linens and cottons look whiter than they ever did!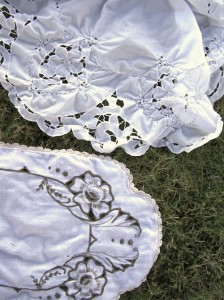 Ta daaaahh! Sun bleached beautiful clean linens!
If it is windy, use clean rocks or weights to hold down corners. Remove from the grass before the sun goes down and lay out again the next morning if the stains need more time to disappear. Handle only when dry. Keep your dogs off unless you want dog paw prints as a pattern – Aunty learned this the hard way. Paw print are not removable with this method.
Crocheted doilies and cloths are great candidates for this method since they do not wash well. However, the dyes that are used in the natural looking crochet threads do tend to also bleach out, so a brownish ecru piece will lose its brown-ness and become almost white.
About The Author
Related posts