Super Duper website making Sale!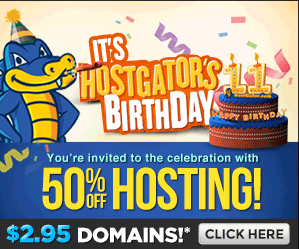 This is the CHEAPEST that Aunty has ever seen from Hostgator!!!
*Note:  sale has ended, though Hostgator often has sales of 25-30% off.  Hopefully they have this awesome 50% off again for their birthday next year!
If you have been thinking of having your own website (see Aunty's how to), Hostgator is having a birthday sale – for just 24 hours today, Tuesday October 22.  Sale ends at midnight Central Time – which is about 7:00 pm Honolulu time.  50% hosting is really  a deal!
This comes just at the right moment – Aunty's best pal Patricia will be starting an awesome website gallery, and Jalna will be taking photos of her pieces.  Very exciting!
Click on the Hostgator link above to be whisked over to the Hostgator page, choose 50% off!  The hardest part about this process is figuring out your website name.  [note:  Hostgator has limited domain choices:  .com, .org, .net., .biz.  If you want others, go to GoDaddy.com for your domain name, and then go back to Hostgator to set up hosting with them because it is super cheap today!]
Good luck and welcome to the wonderful world of having your own website!
**Update!!!  Aunty's pal Patricia signed up for the "hatchling" hosting package without any of the bells and whistles.  $89 total for 3 years – that works out to $30 per year, woohoo!!!  Domain name from GoDaddy.com will be $49 for 3 years for a .me name.  Not too shabby – $138 for a website for 3 years!! Aunty recommends that you sign up for your website today – Hostgator has a refundable policy for a few days in case you change your mind.
About The Author
Related posts