Supplements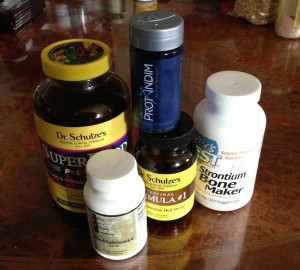 Aunty will share what she currently takes and when Protandim comes up, it will sound like a sales pitch, so sorry in advance, but it is worth pitching, imo.
Uncle swears by Super Food from American Botanical.  It is all the best green food stuff compressed into a green tablet.  Everyday, Uncle takes about 4 of them.  I take 2 if I remember.  This is a very good nutritional supplement especially since I don't eat enough vegetables.  Dark green leafy vegetables, spirulina, blue green wheat grass, etc. are easier for Aunty in a tablet form so it works for now.  I just wish it looked, tasted, and felt like a crispy fried piece of bacon – one of Aunty's absolute favorite bad foods.
Strontium is more acceptable because of its properties and lack of side effects for bone building than calcium supplements.  Aunty's once every 5 year (I know I'd better go more often) checkup revealed low bone density so this is what Aunty takes, one a day.  Good friend and nutritional UH professor Alan Titchenal sent over the info and here is the page on it.
One a day Protandim by LifeVantage is really something.  Aunty has more energy throughout the day, wakes up refreshed and clear eyed, feels mentally sharp again, and also sexier.  Fingernails are stronger, stiffness and pain in the hands have diminished drastically, and I think I am handling stress a bit better (but Uncle and the kids would know more definitely.)  Aunty has a page on Protandim for more blow by blow under the Review pages.  If you sign up as a preferred customer on monthly autoship and you continue for 6 months, you will get a FREE bottle of TrueScience Anti-Aging creme – that's a good deal since the creme is rather expensive – $70!  If you do sign up to be a distributor (possible to make good commissions) or preferred customer, Aunty does get a nice commission the very first month.  The company provides each distributor with their own business website, and Aunty's website is mylifevantage.com/aunty.
Another product that Aunty takes once a day forever is Dr. Schulze's Intestinal Correctional Formula #1 from the American Botanical Company.  With it, Aunty "goes" in the morning, guarans ball barans.  That is very important for good health.  Each person needs to find the right dosage, and happily Aunty has been able to decrease her daily dosage to one a day.  Like the Dalai Lama, Aunty also smiles in the bathroom.
Of course eating a healthy gatherer/hunter diet is the ideal as well as doing daily exercise, but for now Aunty is being lazy and having supplements as I slowly (very slowly) transition to the healthier choices and lifestyle is a blessing and a regime that I can easily stick to.
Nattokinese is denatured natto (the stinky slimy stuff made from soybeans that is great for the health) and because one of the properties of natto is blasting away clots in the blood, Aunty takes it whenever she has a headache – just in case it is blockage.  It always works for Aunty, so this is one of the "must haves" in the pill arsenal that is always kept on hand.
I have recently been introduced to Kyani (yup, Aunty signed up, lol)).  Not sure how well it works yet, but will post a review when the results come in.  [note:  Uncle's papa likes Kyani – he has diabetes and his black looking leg has gotten better, or so he says.  As for Aunty, I think the juice tastes good, especially the one in the packet, and I keep a little bottle of the Nitro Extreme in the purse and take squirts from time to time, but I really cannot say if it works or not.]
What do you use for your good health/beauty/happiness?
About The Author
Related posts