Thai Valley Cuisine Review, Kalama Valley
Aunty's next dream car is Uncle's nightmare.  It is a sweet little SUV made by Mercedes Benz, the GLK350.  Each time I see one on the road, I go, "Oooh, there it is!" and Uncle's face puckers up as if he was sucking on a lemon.  Uncle does not like Mercedes Benz.  He likes Toyota, period.
Well, one day while parking at Costco Hawaii Kai, a black GLK350 pulls into the stall next to us, and Uncle hurries into Costco.  Aunty, on the other hand, pauses to speak to the GLK's owner, and asks how she likes the vehicle.  Turns out she loves it, has owned several Mercedes Benz,and buys the full warranty package so she doesn't pay for any repairs or maintenance.  She then hands me her business card – Carole Thirakoun, owner of Thai Valley Cuisine in the Kalama Valley Center, 501 Kealahou Street, phone 395-9746.
Recently, Hot Deals Hawaii had a coupon special deal – $10 off $20 worth of food for lunch at Thai Valley Cuisine.  That was as good a reason as any to take my Thai friend, Ahlin there for lunch.  We arrived around 1:30 pm on a Friday, the lunch hour ends at 2:00.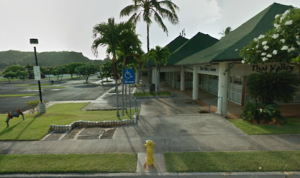 The Kalama Valley Shopping Center is not a bustling place.  Most businesses try, but fail because of the lack of traffic.  The Thai Valley Cuisine restaurant has survived for 20 years! – a testament that they must be pretty good.
The restaurant is located on the Diamond Head corner of a sprawling shopping center.  When we arrived, there were only 4 cars in the rather large parking lot.  One of them was Carole's sweet little black GLK!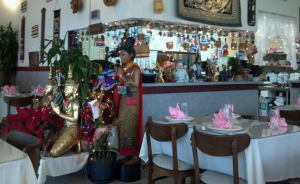 A menu and some reviews are pasted on the plate glass windows.  The interior is rather small and L-shaped.  Only one table was occupied so we sat in a corner by ourselves.  Thai pictures, figurines, knicknacks, and souvenirs abound on shelves, tables, and walls.  Huge vases of tall lucky bamboo stalks added color and more visuals.  Walking into this place felt like stepping into a funky Thai hole in the wall, with a touch of class.  Pink linens on white china were folded into bird of paradise shapes – reminding Aunty of her old Pan Am days when we would fold first class napkins to house the silverware on our passengers' tables.
Our table had a view of the kitchen, and I saw Carole in the kitchen, preparing entrees – so! the owner is the head chef who actually works in the kitchen!  A rather pleasant surprise, since Carole does not look the part of a chef, with her nice car(s), stylish clothes and beautiful jewelry.  (Note to Aunty:  if you have nice jewelry, wear it!)
The menu seemed to have the standard Thai fare, broken into standard sections:  appetizers, salads, soups, entrees, noodles, house specials, drinks, and desserts.  It took us a long time to decide what to eat because many of the dishes did not have typical Thai names, rather a combination of English with a sprinkling of Thai with detailed ingredients.  What made it even more difficult for us was that the font was difficult to read – rather fancy, almost Arabian or Egyptian type.
We ordered Pad Thai with shrimp, Beef Larb, medium spicy, and crispy fried fish fillet in ginger sauce, along with iced coffees and Thai iced tea.  The tea was delicious, the coffee a bit too sweet, in Aunty's opinion (iAo).
The Pad Thai was absolutely delicious.  The flat noodles were seasoned delicately, not too dry, not too oily, cooked to perfection, surrounded with about 8-10 good sized succulent shrimp, and topped with a very thin sheet of egg.
The beef Larb, ordered medium spicy, was not spicy enough for Aunty, so a chili sauce (made with vinegar, fish sauce, chilis and garlic) was requested.  We filled cabbage leaves with a spoonful of the ground veal Larb (Carole does not use hamburger – says it is too fatty).  The Larb has been stir fried with mint leaves and something else – a touch of lemon or lime.  Very subtle, delightful taste!
The crispy fried fish fillet with ginger sauce came to the table, and was not what we expected.  It looked like the fish fillets were curled and drowned in soup with a hill of vegetables.  This is one of those cases where you have to try it and put away your judgements.  Turns out, it was SO ono!!  Flavors bursting, slightly spicy, aromatic.
We also ordered Thai sticky rice, and it was purple!  Ahlin said that was really good rice, and she knows her Thai rice.  It was not as skinny and dry as the white sticky rice that I am used to – and at first glance and touch, it seemed like it would be hard, but it really was great rice, and one serving was more than enough for two people.
Since we arrived so late for lunch, the restaurant soon became empty except for us, and Carole came by to talk.  She remembered meeting me at Costco after I asked about her SUV and we talked about cars (she knows a lot about cars) for awhile and then about food.
Carole is Laotian, and a plant and food connoisseur.  Ahlin is also a plant and food connoisseur.  They had a lively conversation about cooking, herbs, growing tips, culture, and news.  Carole makes everything from scratch, from the best ingredients and plants that she can get.  Carole shared a tubful of her special base of homemade shrimp paste with Ahlin, and we went out to view her herb and vegetable garden.
She cut off a stalk of pandan for Ahlin to plant, which made Ahlin very happy.  It is used while cooking rice or noodles, imparting a nice scent to the food.  Carole's kaffir lime trees were short and full of branches and leaves, and Aunty's tree is very scrawny and sparse in comparison.  Tips for better growing were shared, and Aunty now needs to go to City Mill to buy insect and bug control as well as some super soil to top the ground.
Carole had bushes of basil, chili peppers, ginger, orange turmeric, papayas, and many other vegetables and herbs thriving in her garden bordering the sidewalk.   She picks what she needs as she cooks.  No wonder her food tastes so fresh!
Aunty's ears perked up while Carole showed off her pots and pots of lemon grass.  She said that lemon grass plants don't have flowers – only very very rarely.  Really?!?  Aunty's lemon grass plants flower all the time – they look like wheat flowers which later turn into seeds that start sprouting wherever they fall.  Aunty used to think that they were a bit humbug (though easy to pull out), until Carole said that those with flowers bring good luck to the owner.  That was a very nice thought…
Aunty and Ahlin drove home very happy, both of us with warm memories, leftovers, and lessons from the gracious Carole.
As we parted with a hug, Carole said to Aunty, "Life is too short to not have what you want."  She was referring to the car of Aunty's dreams.  Hmmm.  Maybe one day – one day when Uncle is willing to hang up his nightmares and appreciate the smell of fine leather, a luxury ride, and realize that his fishing poles and fishing bucket can just as easily be accommodated in the cargo area of a GLK as it can in the bed of a Toyota truck.  Until then, Aunty will wait.  (This time, tell Uncle :))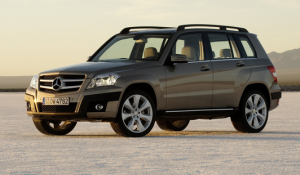 About The Author
Related posts