The best part about Christmas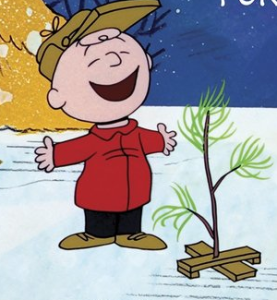 When Aunty was a youngster, Christmas was magical, Santa was real, and the best part of it was opening presents on Christmas morning.
Now that Aunty is an oldster, Christmas is traffic and madness, Santa looks different, and presents are opened early so they can be returned before the after Christmas rush.  Bah! Humbug!
Well, actually, there are some things to look forward to besides the yule tide songs and the smell of pine trees that only show up at Christmas time.  Icicle lights, foot controls, and electric timers.
Icicle lights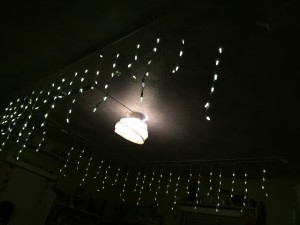 These are so lovely.  We used to hang the green wire ones on the low branches of our plumeria tree (before Aunty had her tree trimmers make the trees bolohead) and our front yard would be festive and lit up enough to hibachi during the evenings, all year long.
They are on Aunty's ceiling in her craft room.  They go on at dusk and off at midnight.  They add more than 50% of light to the room and when they do burn out, Aunty would have to wait until the shopping days that follow Thanksgiving to find them in the stores again.  They are so lovely – hanging like branches of crystal sparkles with a nice warm glow.
Recently, Aunty hung them on the ceiling just above a desk against the wall because a desk lamp would take up too much space.   Cup hooks were used in the ceiling, the icicle strand was doubled up, and then are connected to an extension cord that has an on/off toggle switch for convenience.
Foot controls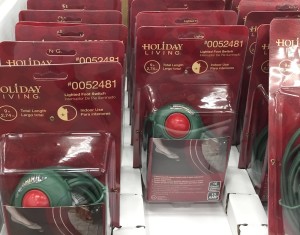 These are used for Christmas tree lights but Aunty uses them for the electric motor attached to her pasta machine.  The pasta machine is used for conditioning and blending polymer clay (Aunty's current favorite medium).  The pasta machine motors have an on/off switch on them that is a bit of a hassle when trying to fold and feed a sheet of clay repeatedly into the machine with 2 hands.  The foot control extension plugs into the electric motor's cord and outlet and the foot button is on the floor so that a flick of Aunty's foot will turn the machine on or off as desired.
Electric timers
Actually, timers are available all year long.  Aunty uses them for her hobby room icicle lights to go on automatically at dusk and off at midnight, as well as a parlor lamp that lights up the dark corner of the room every night.  These plug into the outlet and the electrical cord of the lights plug into the timer.  They used to tick tick tick all day and all night.  Tick tick tick, tick tick tick.  Kind of irritating but they were doing a good job.
However, this year, Aunty found digital timers in the Christmas section at Lowes!  They do the same thing, take up less space, and they are silent, silent, silent!  It took Aunty more than a couple of tries to get them working with the on and off times, but once they were set, it was wonderful!  These also have a battery that maintains the time in case of a power outage or if the plug is unplugged.
Bah, hum bug, and yet…
Christmas is still magical.  It is a time of eating too much, raising stress levels, and feeling frazzled balanced with charming little reminders of the season such as a homeless panhandler wearing a Santa hat or reindeer ears on the windows of a honking big SUV.
It is a time when people greet strangers with "Merry Christmas!" and we all feel much more generous and giving.
It is a special time of the year, and Aunty has stocked up on enough boxes of icicle lights to last her at least 20 more years.
Happy Holidays, mahalo for being a reader, and may all your Christmas and non-Christmas wishes come true!
About The Author
Related posts