The Fat Lady Sang "Ka-ching!"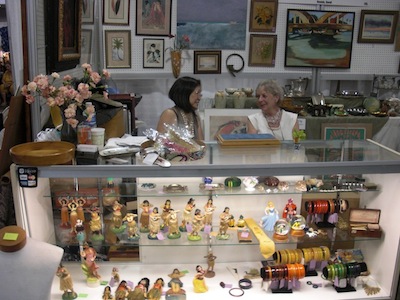 Well, Aunty finished boothing the Hawaii All-Collectors Show this weekend!  Leading up to it was not as stressful as it usually was – Aunty is wondering if it is possibly because of Protandim taking or if it is just the mellowing with age.  Hmmm.
It also always helps to have best pal Patricia using her magic touch of design and arrangement in the booths as well as her company during the show.  Uncle, daughters and Wandering Wanda also pitched in with loading, setting up, and/or sitting the show.
A most exciting surprise was right across from us – a comic book booth, with one of the premier graders of comic books, Bruce Ellsworth of Maui Comics and Collectibles.  Bruce has been a senior advisor to the Overstreet Comic Book Price Guide for over 33 years, and so, on the second day, Aunty brought one of her boxes of Conan the Barbarian Marvel comics to see what it could be worth.
Aunty loved Conan the Barbarian comics and collected them with a passion as a young adult.  I would go to the Moiliili Library to buy or trade with young boys in order to upgrade and complete my collection.  I am wondering if Barack Obama was there (he would have been a young boy then)  because he also liked Conan the Barbarian comics (or so I read somewhere), and he lived close by.
Nephew collector David used to tell me about my collection:  "Aunty, Conan is just about the only affordable silver age title" – comparing it to Spiderman, Hulk, Xmen, etc.  That was always a bit disappointing, but he advised keeping them, and so I did, in boxes with archival packaging and stuck them in a out of reach closet area for years, always wishing that I had liked Peter Parker or Dr. Bruce Banner more than the axe welding, long haired, scowling and scantily clad Conan from Cimmeria.
At the show, Bruce confessed that he also liked Conan the Barbarian comics (hurray! a fellow Conan-er) and proceeded to look at Aunty's Conan the Barbarian #1.  With a jeweler's loop, Bruce inspected the front cover, spine, back, edges and then said 9.4 – 9.6.  That meant Greek to Aunty, and then discovered it was a grading scale, with 10.0 being the highest and best.
Then, Bruce said that it was the first time he had ever seen a Conan #1 in that fine a condition and that to his knowledge, there was only one other like it, and it had sold at auction for $8,000!!!
Aunty would have done the happy dance right then and there, but refrained due to the nature of my attire (hat, pearls, skirt) and the persona of my booth (classy, refined, antique-y).
Now Aunty is buzzing in her head about the next Conan the Barbarian #1 comic book auction and envisioning Bill Gates, Steve Wozniak, and President Barack Obama in a bidding war for Aunty's collection of Conan the Barbarian silver age comics in mint condition.  How sweet a vision!  Actually, if any of those bidders would like to contact Aunty directly, Aunty will give the collection to them, in exchange for the privilege and honor of taking a picture with them (Network = Net worth according to JT Foxx).
It was a great weekend.   Aunty is very thankful for the opportunity of meeting old and new friends there as well as the surprises and treasures around every corner and booth at this Show.
I hope Bruce Ellsworth will be there again next year.  If so, Aunty will bust out her mint collection of Howard the Duck to grade and appraise.  Howard is a cigar smoking, opinionated, crass mouthed, horny duck that also fascinated Aunty in the 70's.  He was Aunty's kind of duck and one of my favorite titles.
Hopefully the fat lady tunes up her vocals for next year also.
About The Author
Related posts